August 25th, 2012
I've been wanting to get my hands on a tennis ball machine for a while now. I finally found a really inexpensive one on craigslist. It works perfectly. It will be even better once I make some 'modifications'..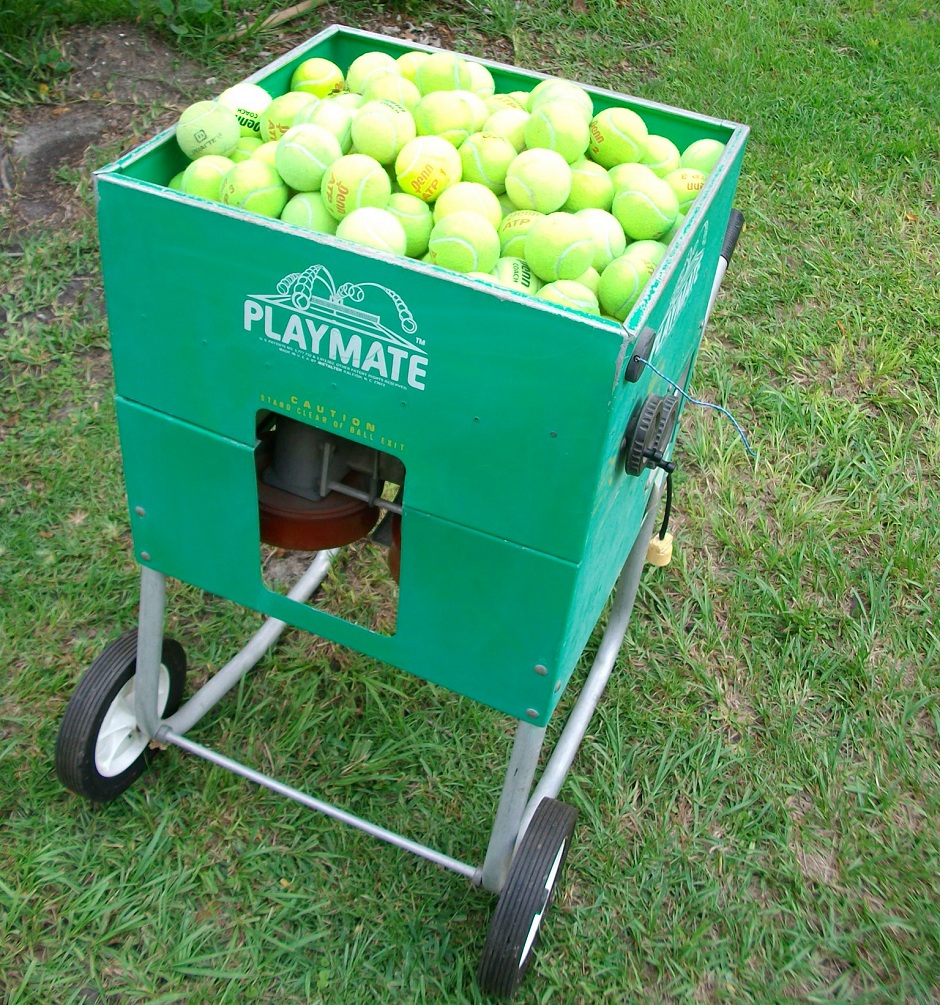 April 9th, 2012
We will be selling mini-turrets in the next week or so. They come with an airsoft gun, are complete, assembled and only require AA batteries and a netbook.
December 11th, 2011
An updated trial version was uploaded. Has newer features from v2.6 and fixes a compatability problem with international users.
November 19th, 2011
The heavy turrets are now in stock.
October 9th, 2011
Still building turrets. These 3 are spoken for but more are on the way.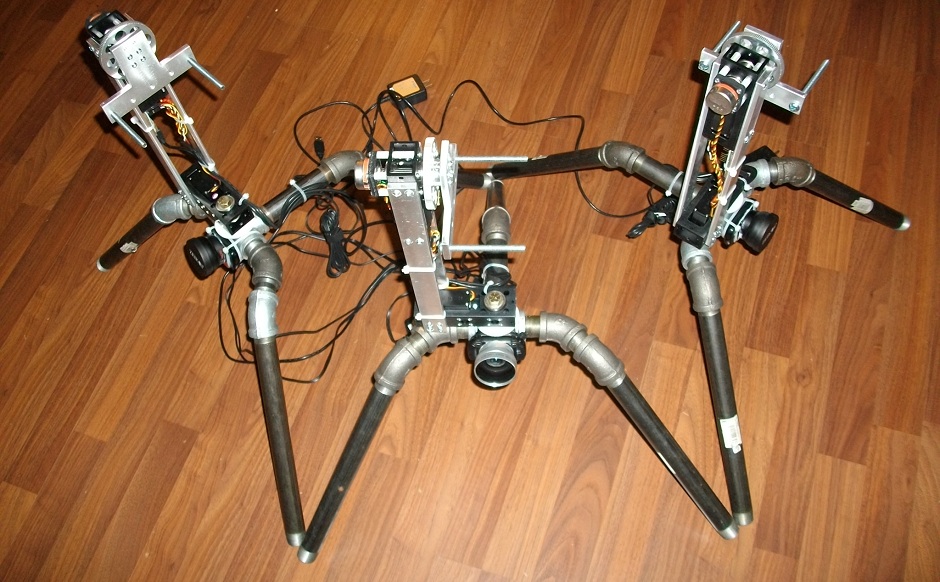 September 3rd, 2011
The camera sentry picked up a red-tailed hawk.
August 27th, 2011
v2.6 is ready. The heavy turrets are almost ready too. The last thing I have to figure out is the best camera to use. I'm trying to find a webcam with a 90°+ field of view.
August 11th, 2011
We're trying to wrap up the improvements to v2.6
July 21st, 2011
After 3+ months, the medium turret kit is finally back in stock. The instructions page for it has been updated too.
July 7th, 2011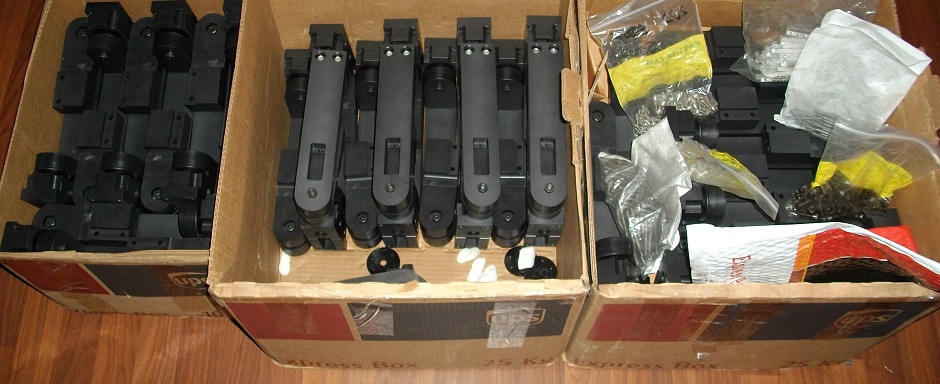 The batch of medium turrets have arrived from the machine shop. I still have to get the small gears that go with them from servocity though. They have to make them so they won't be able to ship them out immediately. The gears are twice as thick (1/4" vs 1/8") on this batch for added strength.
I'm also getting a batch of the 3 custom parts made that are needed for the heavy turret. Once they are done I'll be able to start selling those too.
May 23rd, 2011
I've made several improvements on the target tracking camera. Images are automatically downloaded, the SD card is automatically erased afterward, the shutter is computer controlled instead of needing a servo. plus many other improvements.
The machine shop says the batch will be done this Friday or Monday. (Then they have to be shipped.) I'll email everyone on the list when they are ready.
May 4th, 2011
I'm wrapping up testing for v2.5.
The machine shop says it'll be 2-3 weeks until the next batch of turret kits are ready.
April 11th, 2011
The Camera sentry caught the google streetview car today (the original image is 8x larger).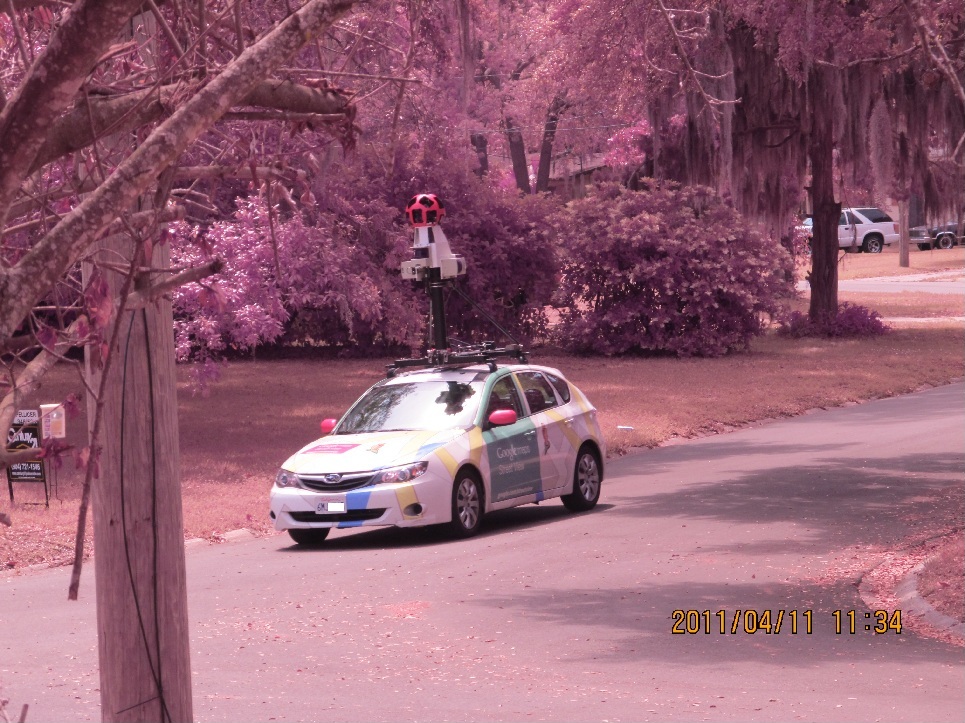 March 24th, 2011
I built 2 more camera kits since the 1st one sold so fast.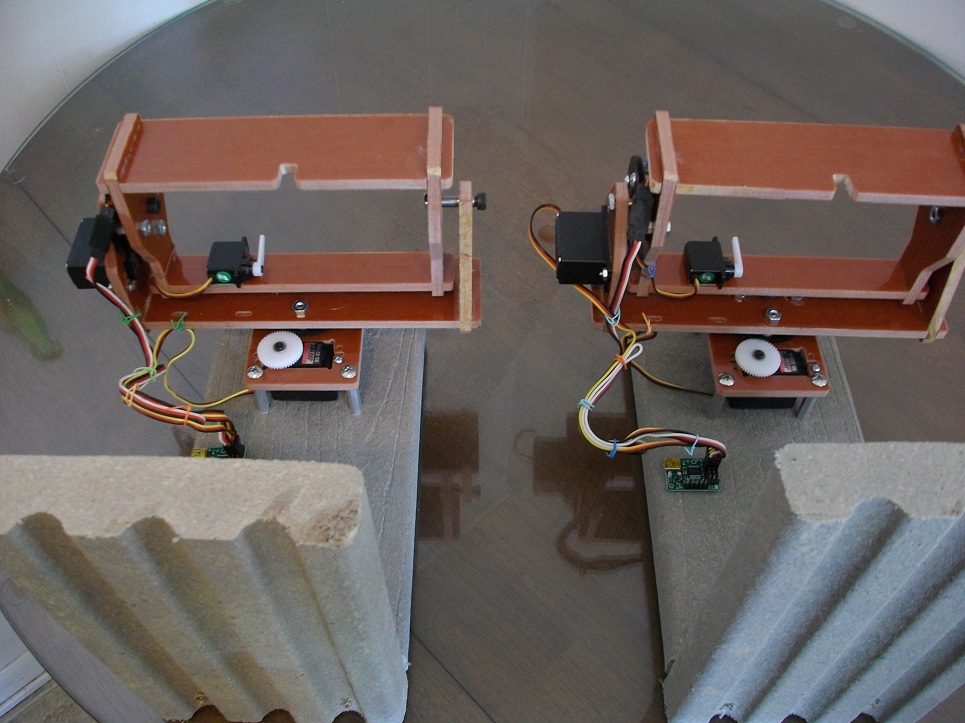 March 10th, 2011
I've ordered the next batch of turret kits with a gear design that is twice as strong. They should be finished in 2-3 months. Email me if you would like to be notified when they are back in stock. I also started selling target tracking camera systems that I am able to make locally.
December 4, 2010
I also made a trial version that automatically closes after about 5 minutes of use and has no serial (servo controller) functionality.
November 14, 2010
I finally made a small breakthrough on the target tracking security camera. Normal analog CCTV cameras are mostly junk if you actually want to make out a face or license plate. Compact digital cameras are far superior for the money even though they are not intentionally designed for this purpose. The only drawback I was still facing with them was the fact that almost all of them have IR filters preventing the use of IR illuminators/IR Flash kits to help them see at night (a normal flash would bother the neighbors). Also, removing the IR filter is more and more difficult the newer the camera as they are pretty difficult to disassemble and reassemble without breaking something. Today I was finally able to remove the filter on a brand new Canon SX130 IS. A few details and pics are HERE Now I just need to find the most effective 'IR flash' for the money. It may just end up being a IR illuminator that automatically turns on and then off when the shutter button is pressed.
October 6, 2010
I'll be selling the turret kits slightly more complete than last time. All that will be required now for a complete system will be 3 servos, 2 servo extension wires,a logitech pro 9000 webcam, and a base to mount the turret to. The turrets are in, the small gears are in but I'm waiting on the power leads and battery holder for the servo controllers. They will be in on the Saturday the 9th.
August 6, 2010
v2.2 was released.
I added automatic zoom to the camera sentry so now it not only tracks targets automatically it also zooms in on them automatically. I'm currently looking for a high crime area in my city to lend one to. I'm not sure about selling them online though because they are complicated to set up and install correctly.
July 9, 2010
v2.1 was released.
May 28, 2010
v2.0 was released. This version will be very helpful for new users
April 28, 2010
The turret kits are finally back in stock. This was long overdue and hopefully I can keep them in stock this time. I'm working on even more complete packages but that will take some time.
April 17, 2010
The turret kits are on their way. it will probably be about a week or less before they arrive.
I'm also testing new features for version 2.0
April 2, 2010
version 1.9 was released and emailed to everyone. See the version history page for the list of improvements.
March 30, 2010
version 1.8 was released and emailed to everyone. See the version history page for the list of improvements.
March 13, 2010
Working on version 1.8. Finally have a manufacturer for the turret kit. They should be back in stock about 3 weeks from now.
February 19, 2010
version 1.7 was released and emailed to everyone on February 19th. See the version history page for the list of improvements.
I'm still looking for a shop to make the parts in bulk for me. I've spoken to a few but they never follow though enough to even give me a quote. I've got AutoCAD, Mastercam and G-Code files for all of the parts and cash in hand yet I still got no results.
January 3, 2010
version 1.6 was released and emailed to everyone on December 11th.
I'm getting a lot of requests for the hardware. I'm trying to find a company to manufacture them for me but having a lot of trouble finding one. I don't have the time to make them myself and I don't have enough work to warrant hiring someone. I do have the funds to get a batch of them made, if I could just find the right company to make them.
November 12, 2009
I'm selling the turret hardware again. You can find it on the products page.
As some of you may already know, I've begun development of a Auto tracking PTZ. A video of the first prototype can be found here: http://www.youtube.com/watch?v=4KhUdi1rO3k
October 30, 2009
version 1.5 is out with pretty significant targeting improvements.
I'm working on getting the hardware made by a 3rd party so I can sell the complete system again since a lot of people are asking for it.
September 14, 2009
Updated the software instructions.
Added servo controller instructions.
Made a new video which is up on the front page.
Found a real cheap surveyor tripod on eBay. It works very well on the sentry.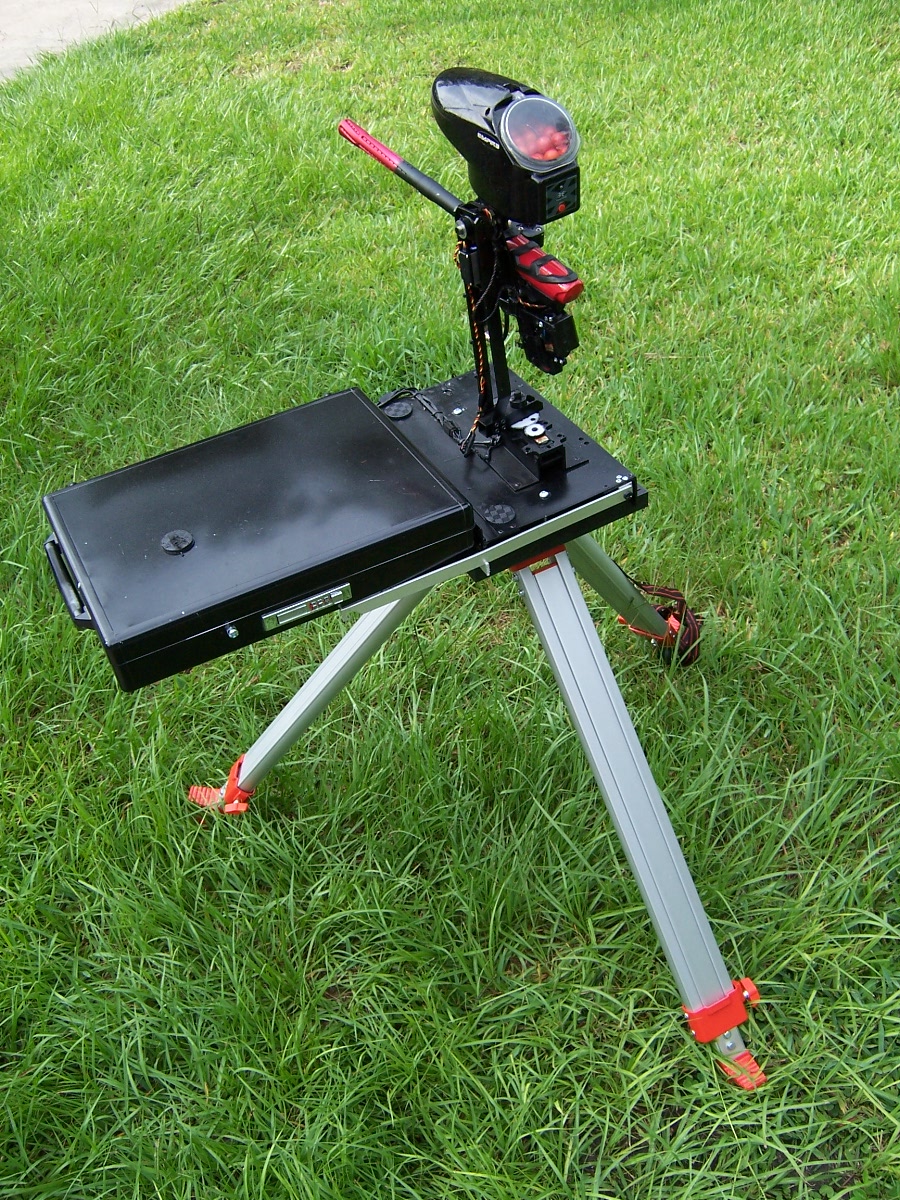 August 19, 2009
added instructions for making a water sentry to the hardware and software guide. The water sentry makes a great pest deterrent. unlike other systems, there is no pattern for them to get used to, it aims right at them.
the software kits sold fast. There's 1 left and I've got more on the way.
August 15, 2009
version 1.4 is out.
the software kit is back in stock.
putting some finishing touches on a water gun sentry. I'm taking this one out of the roof and making it more portable. this water sentry has already nailed a bunch of animals so far.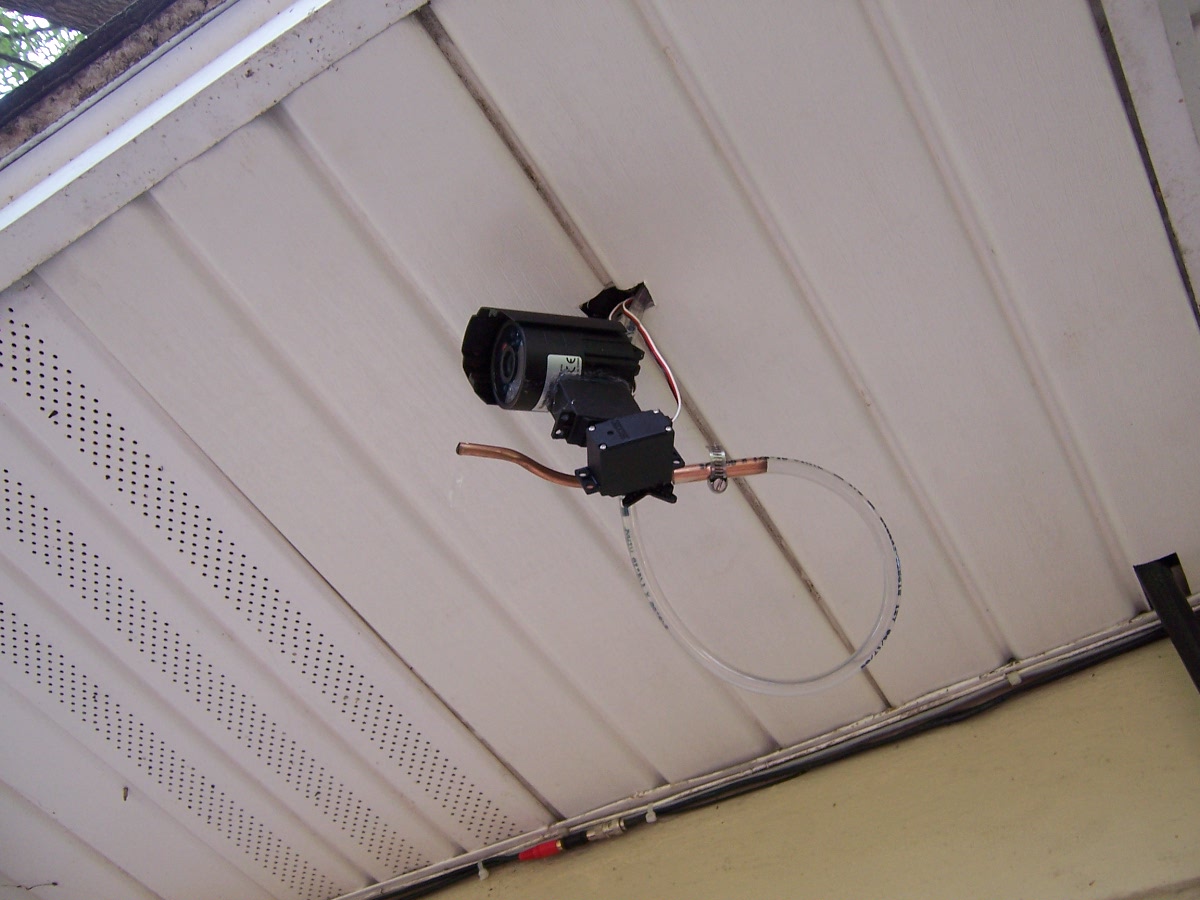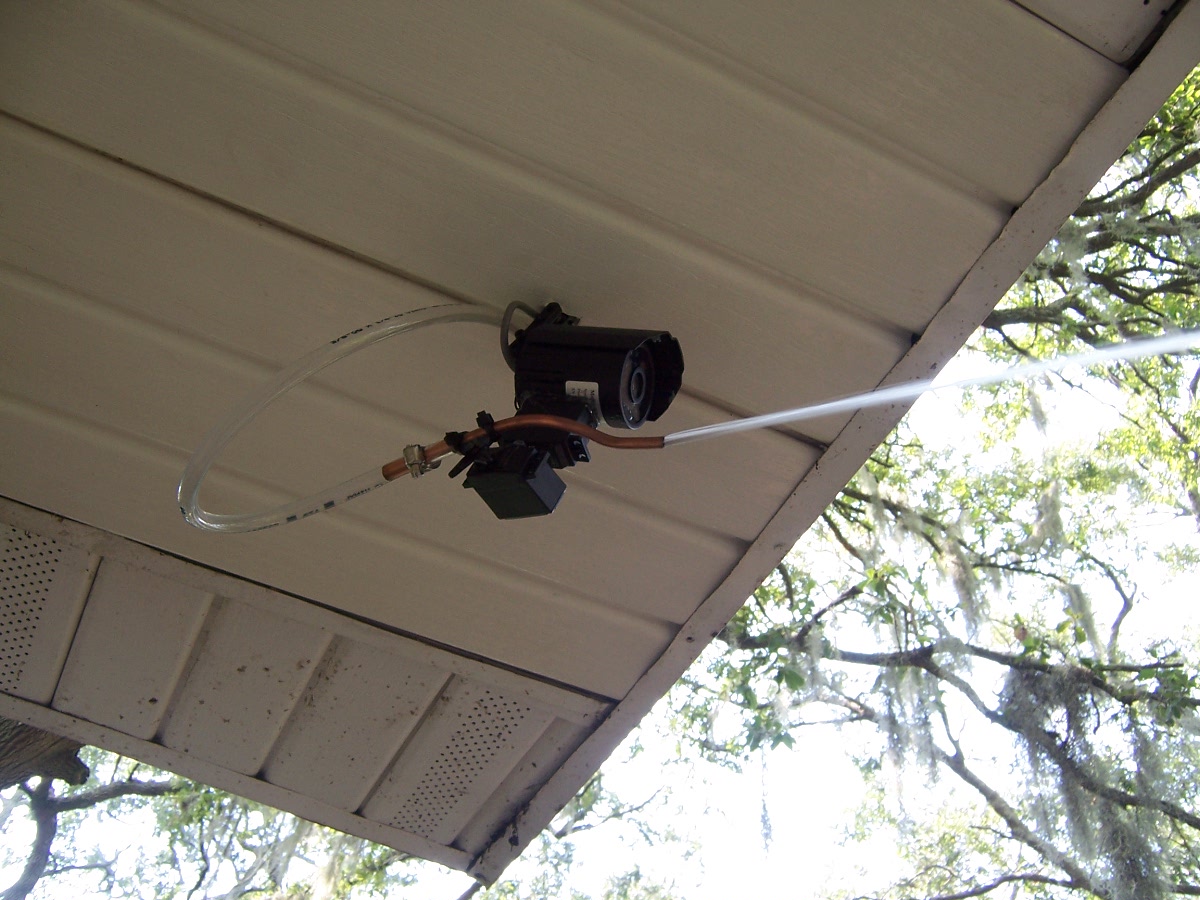 July 19, 2009
version 1.3 is out.
Added the ability to designate areas to ignore within the target area.

fixed minor bugs

got rid of the grayscale detection option since its not used anymore.

cleaned up the UI a little.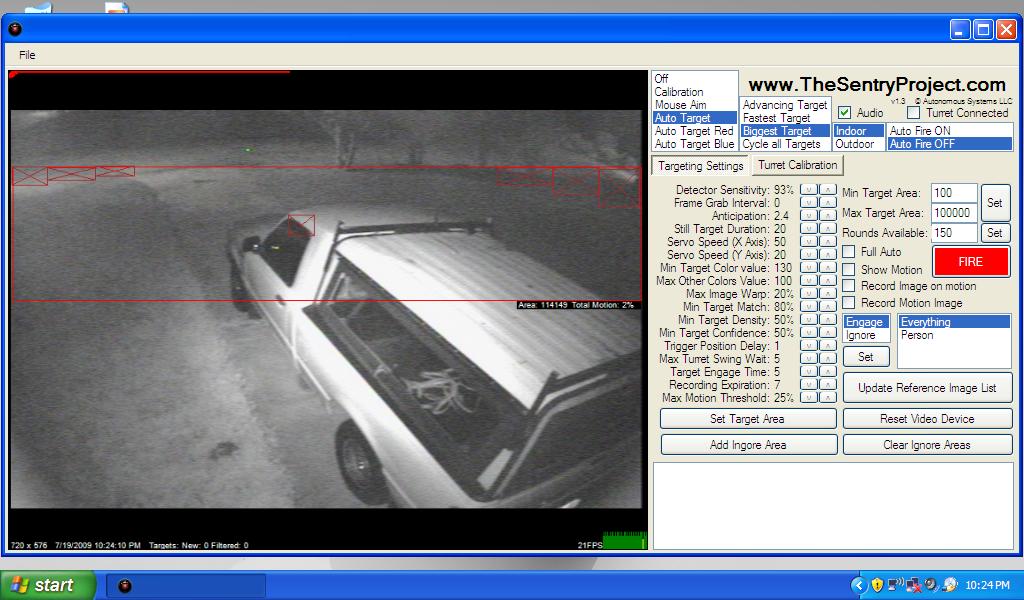 July 15, 2009
I was getting some serious lag issues with the permanent mount sentry. It turned out to be caused by my POS desktop pc. When I hooked it up to the acer is worked great. I calibrated it when it got dark so now that that is out of the way, I should be able to shoot a short little video of it in action. I also need to get some IR flood lights to 'invisibly' light up the back yard at night.
The PTZ camera was the wrong kind. It just uses regular motors with limit switches so it doesn't actually know what position its in. The PTZ systems that do cost twice as much ($400+).
July 11, 2009
I was working on this while I waited for the PTZ camera to come in the mail. It was working fine until the Y axis servo burned up. I also don't know how I'm going to calibrate it since the computer controlling it is all the way in my room. That camera can also see IR so I just need to get some IR illuminators to light up the yard.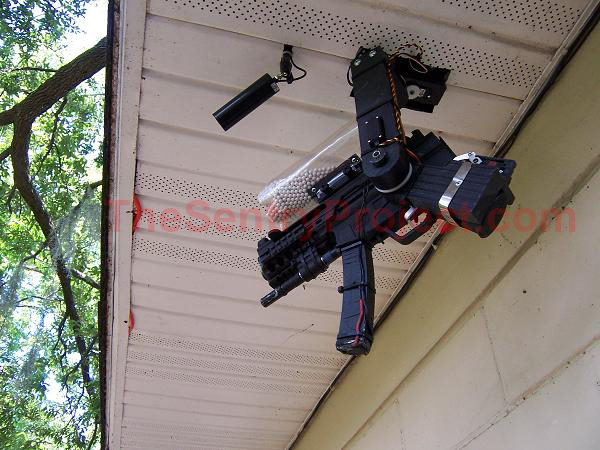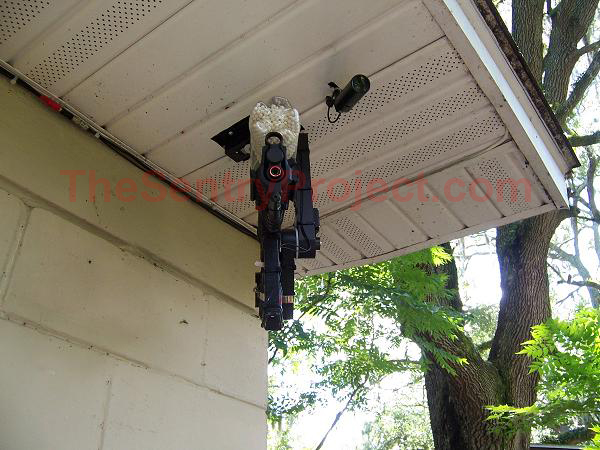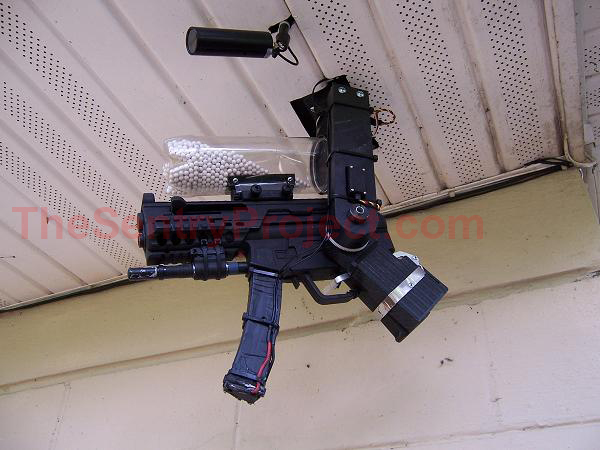 July 6, 2009
I've got a PTZ camera coming in the mail. It uses the Pelco-D protocol and has a 27x zoom. The plan is to have this camera accompany a regular IR bullet cam and have the PTZ camera assume the role that the paintball gun was filling. Instead of painting someone it would zoom in and record thier face or liscence plate. While this is not nearly as fun as a paintball sentry it might sell a little better and help me pay my mortgage.
July 3, 2009
Going to build the do it yourself version sentry and maybe shoot an instructional video on how to build it.
Going to build a Security camera Sentry that will zoom in on targets instead of shoot them.
June 23, 2009
Hopefully the pace of production will pick up shortly. To start off I could only afford to make one. then I had to wait for the money to transfer (3 days), order the parts, wait (5 days) for them to get here and repeat the process. At that rate I could only make about one a week. If the parts get here by this weekend I should be able to make at least 2. Each time I order parts I try to order as much as I can afford so I don't run out of materials as fast.
June 21, 2009
version 1.2 is out and another sentry is up on eBay.
June 15, 2009
That one sold fast. I'm waiting on more laptop cases to get in to make more...
If anyone in Jacksonville FL is looking for work, I could use some help assembling the system.
June 13, 2009
I'll be putting a system up on eBay tomorrow for somewhere around $300. All the parts I needed (except the servo controllers) came in over the weekend.
If anyone in Jacksonville FL is looking for work, I could use some help assembling the turrets.
June 5, 2009
I'm making progress on production but I've run out of material and money at the moment so I have to hold off a bit until I get paid again on the 15th. When you think about it, if I were to make just 3 of them it would cost over a grand. I definitely don't have a grand to spare so I'll have to make them one at a time at first.
Overall, having my own CNC machine brought down labor and material cost by a couple of days and a few hundred dollars respectively.
I've done a preliminary cost analysis and I've managed to get the parts cost to about $300-$350. that's everything except the gun and laptop. labor is also not factored in because it hasn't been determined yet. the total cost also floats around depending on eBay's pricing for different parts. the servos themselves make up 39% of the cost. the other pricey parts were the laptop case, the camera, and the servo controller.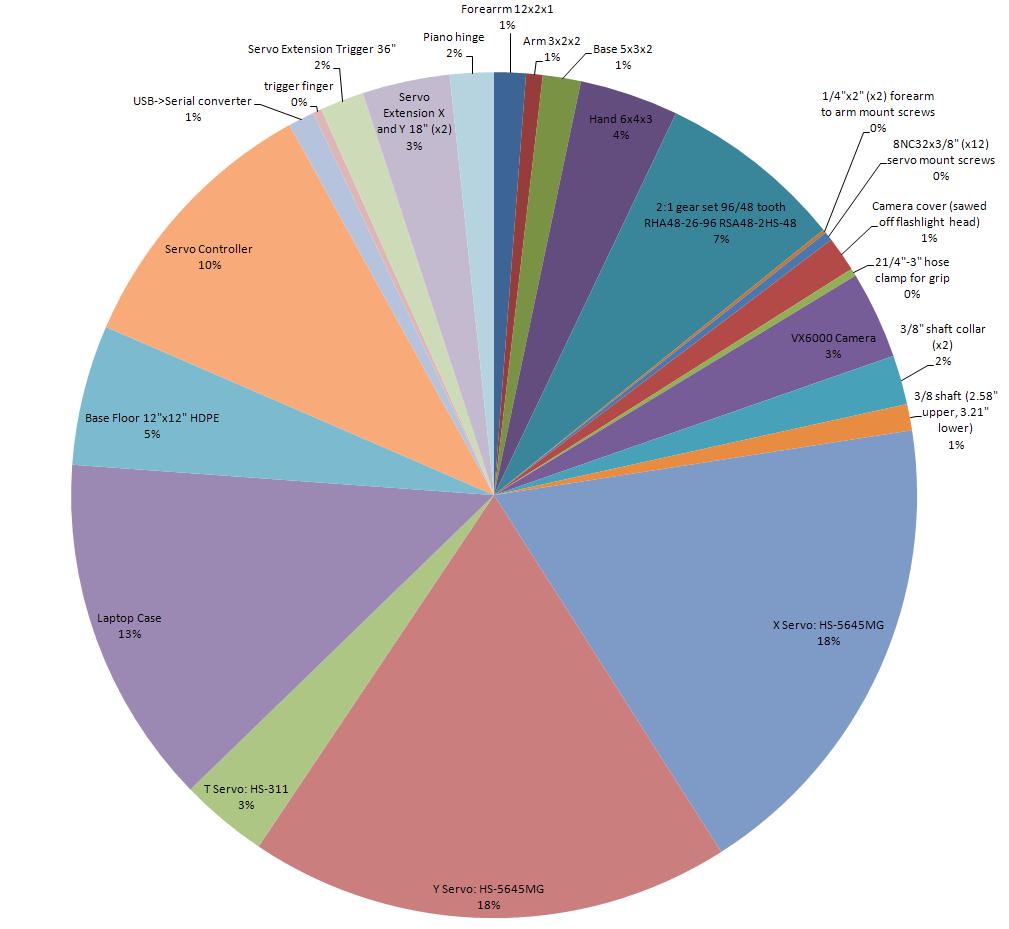 May 25, 2009
The mill works great. I've got the parts designed and did test runs. All I'm waiting for now is Tuesday to get here so I can order the material and start production.
May 18, 2009
I ordered the Taig DSLS 3000 CNC Mill last Wednesday. While I wait for it to get here I'm working on getting the everything else done so there will be the least amount of time spent from the time it finally arrives to when I finally have the parts in production. I'm using SolidWorks 2009 and Mastercam X3 at the moment. I'm already familiar with Solidworks so learning Mastercam is where most of my time is going to be spent.
The whole point of all this is to produce the entire system as cheaply as possible. I'm shooting for around $300-$400 for everything but the gun and laptop. lets say a pb gun is $200 and the cheapest laptop I know will work is $300, that still puts the entire system at under a grand assuming you need a pb gun and laptop.
May 09, 2009
got the wax in but decided not to use it because there's no way to fix mistakes so I made the molds using the wood parts. The molds turned out fine but I can't get a consistent result from the poured resin. For that reason and a few others I've decided making the parts using a CNC mill out of Acetal, Delrin, HDPE, UHMW, or possibly aluminum would be best. whichever is the cheapest while still being rigid enough. I priced a sample part out at eMachineShop.com and the price is too expensive so I went back to look at this TAIG CNC machine I had bookmarked months earlier. I'd love to get it but I'm a little hesitant to drop $3 grand like that. I also know how I could build the whole thing just using a thick sheet of steel or aluminum but I don't have a press brake to bend it with or anything that will cleanly cut metal that thick.
I the mean time, while I figure that out, I'm tooling away on the software. I'm working on a version that is not reliant on a still environment (motion) to identify targets. I've got something working but it only works for targets you've already saved images of. As it is now, it would be very practical.
May 2, 2009
version 1.1 is now available -here-
Hooked up GTA4 from the PS3 to the PC. It makes a great simulation environment for testing.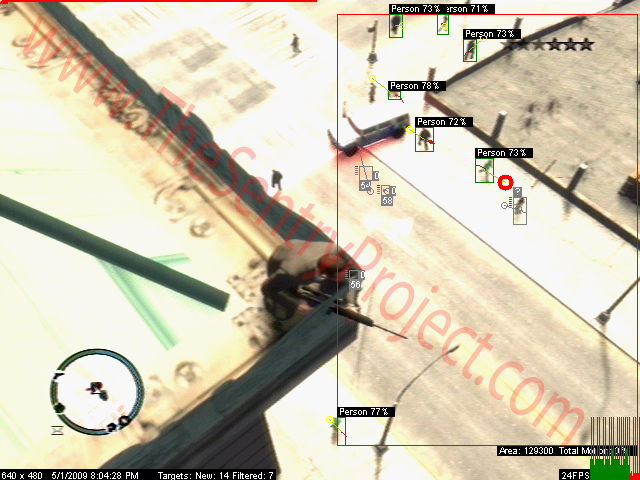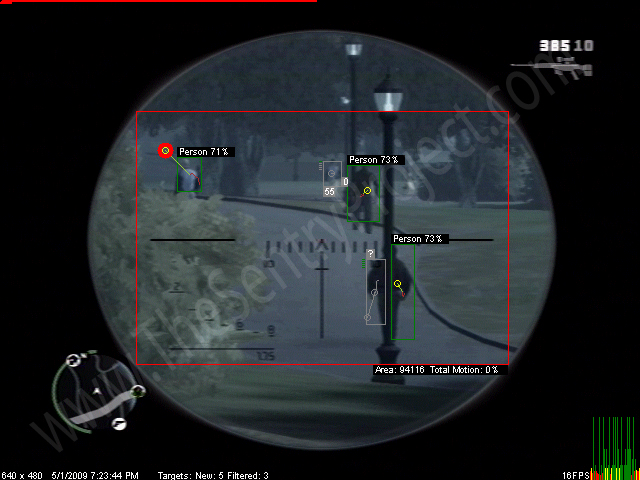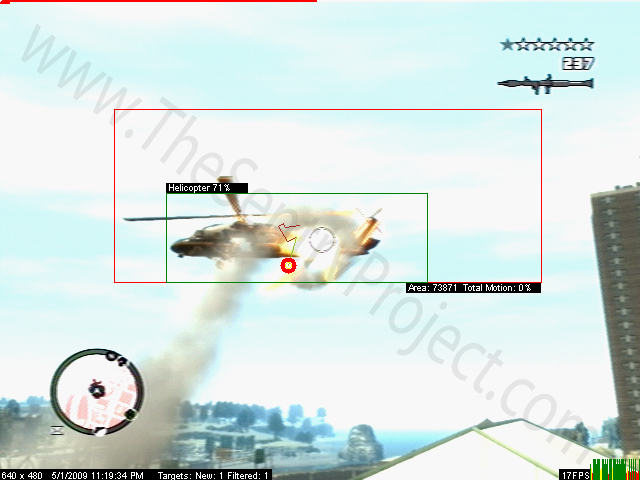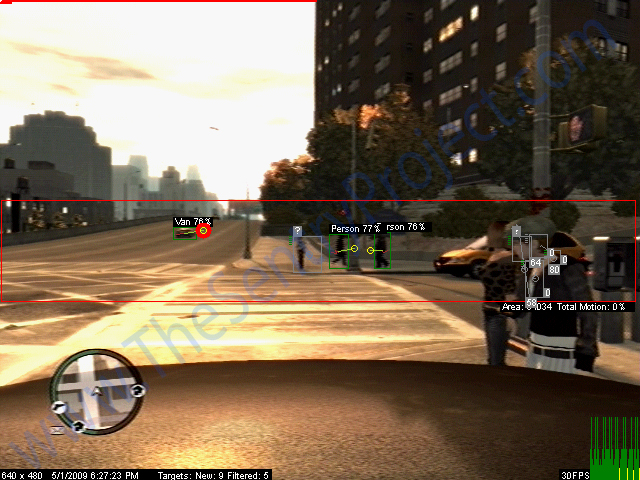 more pics are in the multimedia section.
I'm waiting on machinable wax to come in mid next week. when that finally gets here I'll remake the parts, make molds of them and put the light duty kits up on eBay.
Apr 4th, 2009
Finally I'm getting somewhere (It's ridiculous how hard this is turning out to be) I bought what's called a cross slide vise (once I discovered they existed) and mounted it to my drill press.
This turned my drill press into sort of a poor man's CNC machine and was just what I needed (I love using this thing).
The next hurdle was still finding a the best material to make the 'masters' out of (a term that refers to the original part you're making a mold from). With limited resources and knowledge of what to use I tried wax and wood. for reason's I can't recall, I used wood and spent all weekend making the parts (the base, the arm, and the fore-arm that the pb gun mounts to.) That all worked out fine but, of course, wood leaves grain and tiny splinters in un-sandable places. I tried to remedy that by applying dozens of layers of clear spray paint, which helped, but not enough.
I knew the whole time that what I really needed was just simple blocks of plastic to machine. Should be real easy to find right? Nope. I tried googling terms like "plastic blocks", "cast plastic" etc. NOTHING of any use was returned. As usual you have to know the industry's correct terminology to get any results. they definitely aren't going to put keywords in their site that someone outside their industry would use. So after bothering the guys that sell me the mold making materials with stupid questions I finally go a few very vague clues out of them on how to correctly word what I was looking for. After more messing around I finally found out the correct term is.... MACHINABLE MEDIA. Yea, seems so obvious now but that's just one way out of dozens that could've been used.
Now I've got to figure out the right 'product' to use because, as usual, they have way too many options. Once that is done I get to redo all that work wasted over the weekend. It should all be worth it though when it drops the cost and labor down to a tiny fraction of what it was. That will, in turn, bring the pricing down to a much broader audience.
Apr 11, 2009
Still working on it. I thought of a few ways to simplify the design also. At the same time, I've also created, and have been toying with, a human sized bipedal robot similar to the AT-ST. the problem is, even with gear boxes, the servos strip out or over heat. I guess stepper motors would be a better choice but I want some that act like servos instead of stepper motors. they would have the awesome holding power and torque of steppers but also have built in potentiometers and accept PPM commands for position like servos do. Also they can't cost > $150 because then they're not really worth it anymore.
If i could find a way to get 3D data from 2 cameras at once i could really do some amazing stuff. the only product i know that fits the bill the closest is the minoru 3D but it's kinda shitty and cheap. it only does 320x240 at a decent frame rate. that's the kinda thing I'm looking for though. a cheap 3D camera that does 640x480 at 30fps.
Mar 28, 2009
Still messing with mold making. the hard part isn't making the molds, it's making the original just right. The correct way to do it would be to design the part in CAD and then have it printed with a 3d printer. That would be easier but too expensive. Instead I had to basically design another system with plastic constriction in mind but without using any type of fasteners because they would show up in the mold. ..metal doesn't glue to metal very well :) I don't care though, it's going to be worth it in the long run because the construction process will be cheaper, faster, simpler, lighter and hopefully better looking.
Mar 24, 2009
The turret is up for sale on eBay (I built a copy of it for myself.)
I've found some ways to make future turrets even less expensive. The servos and camera make up at least $225 so everything after that is just materials. I'm going to start experimenting with mold making to see if I can make the system out of a really hard plastic. If I'm successful I will be able to cut the labor down to a mere few hours and parts costs should drop dramatically as well.
Mar 18, 2009
A new video was added last weekend.
I'm messing around with low level robotics to round out my abilities a little bit. It's not really very complicated compared to what I've already done but it allows me to receive data from tons of different sensors and create some really cool stuff.
At the same time, I'm ordering the parts to make another turret to put on eBay. The complete units should be more popular than the software kits (I need to order more of those too.)
Mar 7, 2009
built a new rig that drags multiple targets across the yard and made a video where I attempt to illustrate the sentry's ability to track and engage multiple targets.
http://www.youtube.com/watch?v=eBU2KX-lOF8
I still plan on making complete units to sell. need to make sure I can pay the bills first though.
Mar 1, 2009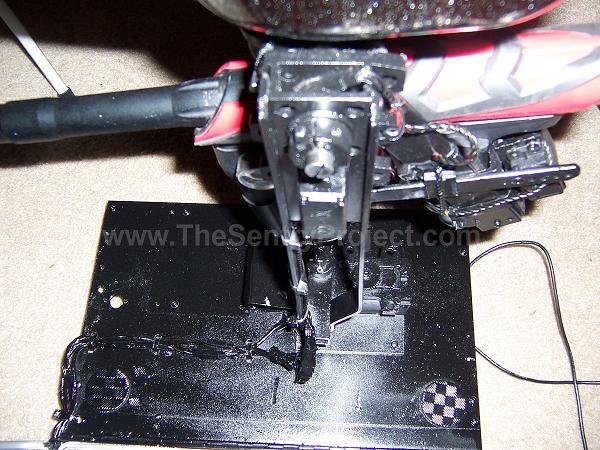 Finally got around to to making upgrades. I moved the arm back to a vertical position and moved the base and camera back and more toward the center. Now I can increase the servo speed without it shaking the camera because the weight is much more centered.
Feb 28, 2009
Added Object Recognition instructions to the Software Guide.
I can built these turrets cheaper if I make them using a stripped down pb gun. I've got an $10 rc switch that can be used to activate the micro switch trigger on a paintball gun instead of the $50 servo. Also the hardware itself would be less labor and parts this way. Once I get it al mapped out in my head I'll start on it. I still like the design I have and it's ability to hold any gun but I don't have the money to build another one and it wouldn't hurt to make an even cheaper turret.
Feb 27, 2009
I created an eBay store and put 10 Software Kits up for sale.
http://cgi.ebay.com/ws/eBayISAPI.dll?ViewItem&item=300297125596
Feb 26, 2009
The next auction will start Friday afternoon and end on Sunday again. Any profits from the auction will go toward building a complete system to put up for sale.
Feb 24, 2009
The Hardware/Software Guide has been updated and more servo controllers should be here in 2-3 days.
Feb 23, 2009
The auction is over. I've ordered more servo controllers and they should be here in a little over a week.
2 things I'll be working on are designing a turret that's easier to reproduce and updating the software instructions.
Feb 15, 2009
Here is the auction for the Software kit. I have 3 available at the moment.
Here's another, simpler turret design.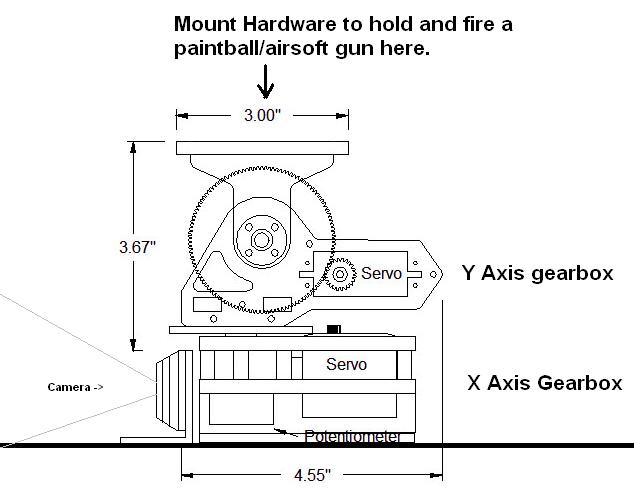 using these gearboxes from servo city.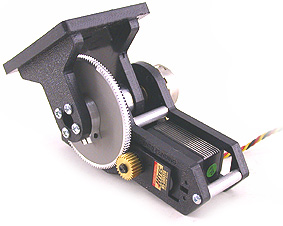 I wouldn't use the 5:1 gears or the potentiometer unless it was really holing something heavy (10+ lbs.). right now I just use the 2:1 gear set.
Feb 15, 2009
I added "Fastest Target" targeting to the list of targeting modes. Now you can set target priority to the fastest target, the biggest target, or just cycle through all targets at a set interval.
I'm trying to think of good ideas for another video. I have several in mind but they require too much capital so I'll just focus on selling the software.
I've also come up with a simpler, more off-the-shelf, hardware design that requires less custom fabrication. I'll build that when I can afford it.
I found out the laptop I use now costs under $300 new, making the system even cheaper.
Feb 10, 2009
Check out the new 'Hardware & Software Guide' section. a Hardware tutorial was added.
Enough creditable people have convinced me that there's nothing illegal about my software. I don't think I'll be selling the hardware though. Instead I'll put up plans/instructions (on the site) on how to build the hardware which should keep me more in the clear. The plan now is to write the software and hardware guide, get an EULA written up, then sell the software on eBay again (but not internationally). It'll be good to get other people's input on performance, bugs, features, etc.
Feb 8, 2009
Here's the most redneck automated moving target range you'll ever see. (When you're broke that's the only way to get it done.) s This 'contraption' is very useful and I look foreword to doing some more testing with it.
Jan 31, 2009
I've improved the moving 'target range' even further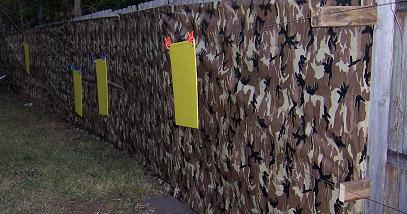 Now there are four targets, 2 going in each direction across a 50' span that move at a speed between walking and running. The Sentry will be 80' out instead of the usual 60'. (I plan on painting the targets instead of leaving them yellow.) All this cost under $100 just like it should.
I got the paintball gun modded too.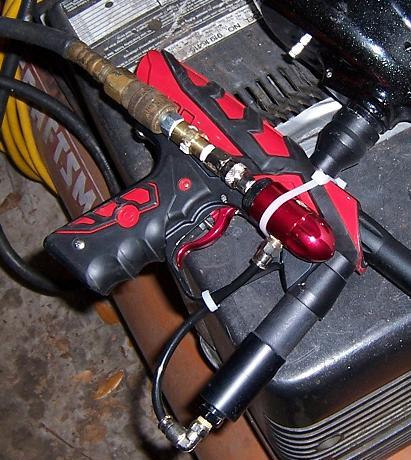 Now it will run off of an air compressor which will save me the time and $$ I spent filling up those compressed air tanks every day. It's only 125 psi for now. If that turns out to be too weak I'll get a 200 psi compressor. I also have 300 ReBalls to use so I don't have to keep buying paint. I should be able to do some testing tomorrow.
For those of you who keep asking to buy the software kit, find me a lawyer, who's either cheap or free, and can tell me if this software it technically considered a machine gun by the ATF or is illegal in any way. That's basically what's stopping me from selling them.
Jan 24, 2009
Problem solved. You just use wire, pulled tight on a slight decline, 2 small pulleys, 2 clips and hang whatever you want from it. Then you adjust the decline angle to set the speed you want and you're good to go. Now with this set up you can have the clips holding the very edge of the target so it falls when hit. String a bunch of those up and you've got multiple moving targets that don't bitch when they get shot, and serve as a cheap, reusable testing environment.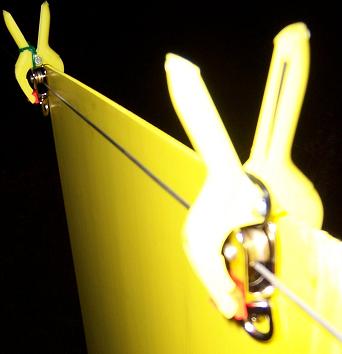 I messed with this today and came to the conclusion that the cheap air soft gun I use has too wide of a spread even at a mere 50 ft out and just plain sucks. To solve that I'm going to switch back to the paintball gun. This time though, I'm going to use reballs and a high pressure air compressor. That way I eliminate all that sucks about paintball; buying the paint, filling the three 4500psi tanks every day, and the mess.
Jan 23, 2009
I'm trying to figure out how to make a cheap, multiple-moving-target range. Some ideas that come to mind are balloons tied to a string on a windy day, targets hanging from a motorized clothesline, and several balloons dropped at once from a high point like a roof. There are systems out there that move targets back and forth but they're ridiculously expensive. balloons on a string don't simulate typical moving targets close enough to be interesting, I can't actually find a motorized clothesline online so that won't work, and balloons dropped from a roof is kind of dumb since my roof is so low. I have another idea though and I'll keep working on it.
Jan 11, 2009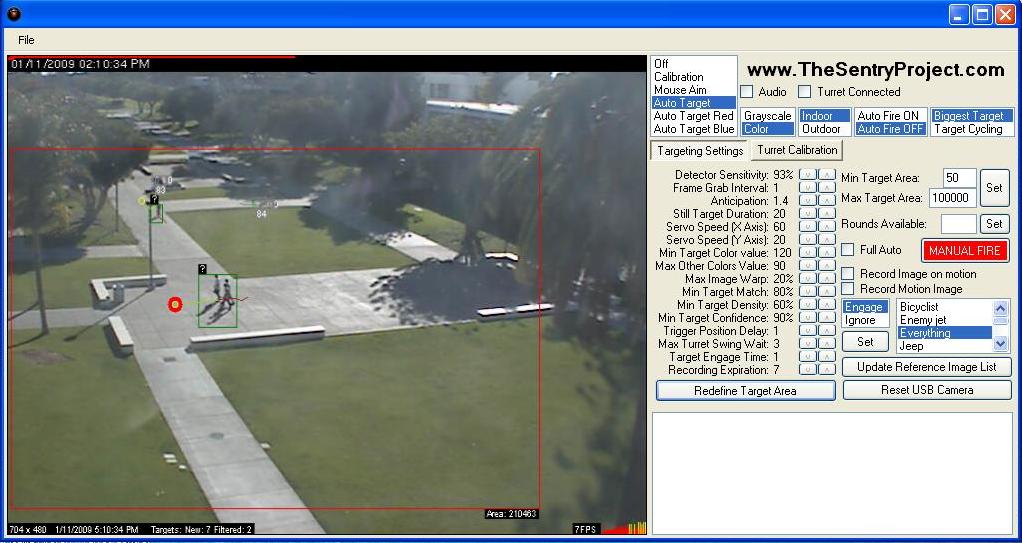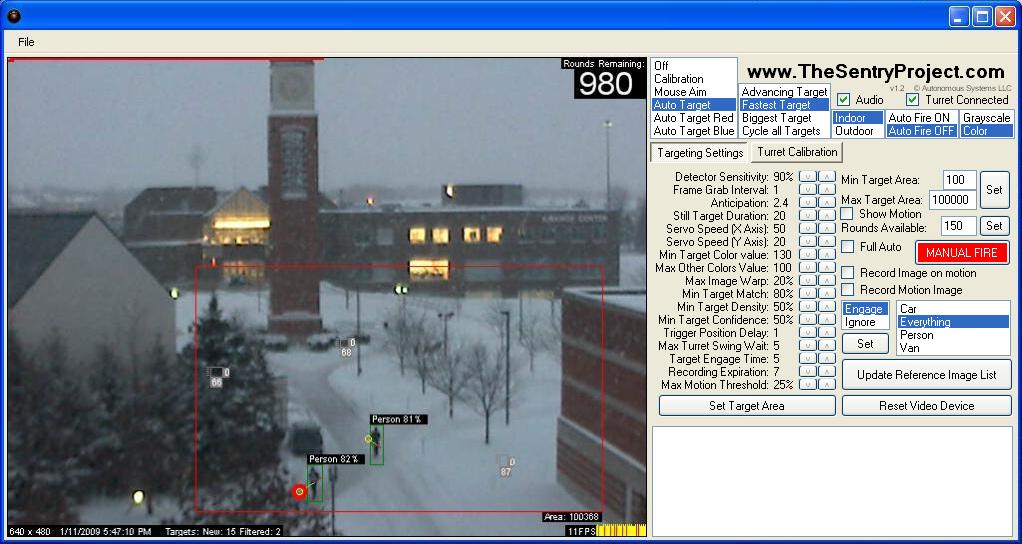 New features and improvements:
- Target cycling, priority and duration options. You can have the system find the biggest target, or cycle through each valid target, every x number of frames
- Target filtering is much more intelligent. Targets are tested and filtered by their movement (if the target shakes but doesn't actually go anywhere [like trees] it will ignore it) and by their density. A target is also ignored when it first appears until it passes the filters.
- Object filtering. You can tell the system to only engage certain targets (selected in a list box), or ignore targets you've selected while engaging all others.
- Each environment is different. I've made it simple to build a reference target image database. You simply tell the system to record each frame and target motion image when valid targets exist. Later you go through those motion images and pick out the ones that best represent the target you want to add, rename it Cat01.bmp or whatever, move it to the Reference Targets folder and you're done. Now each target that matches that target image, within the parameters you set, will be labeled 'Cat' and can be engaged or ignored accordingly.
- For most of the settings, I decreased the number of steps required to modify their value. For example, changing the detector sensitivity required you to click a text box, type the new value, then click the set button. Now most settings are changed with with one action/click.
- Redefining the target area is much simpler now. I used to have to use track bars to adjust the size and location. Now it's done very easily with 3 clicks.
- I've added an adjustable delay to account for the time it takes for the turret to swing around and aim. This just prevents the turret form firing early before it's actually aimed at the target.
Now I need to create a testing simulator in my back yard that's more than just me running around and getting shot up. I need to create something with multiple targets moving around at the same time that disappear when they are hit. that's going to be a challenge. If you have any ideas on something I could build or buy that's cheap, let me know.
Dec 31, 2008
I've been hard at work tweaking and adding things. The goal here is to have it perform well enough so that I can leave it unattended and not worry about it shooting at shadows or trees swaying while also not missing out on an opportunity to peg a cat, dog or whatever object(s) I have it set to target. Because I can't find an IP camera with multiple different moving objects in it, I have to create scenarios using cheesy gifs. Here is a screenshot: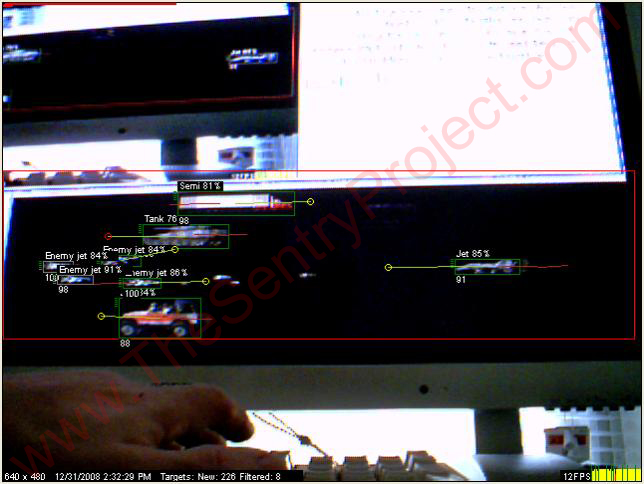 The fps is kinda low because my desktop is pretty outdated and I have too many other programs running. To solve this, I can just tell the program to analyze every 2nd frame (or higher) to increase the frame rate (or close all those other programs). There's a lot of information jumbled up in the target area. A target rect is gray or green depending on whether it has a full history or not. the little dashes to the left of the target indicate how many past target points are saved for that individual target. Then you've got the target description and the matching percentage above the target rect, and a target density indicator below. The little red circle indicates where the turret is aiming while the yellow circles are the anticipated points of other potential target's . Finally, at the bottom of the screen, you've got general information and a historical fps meter showing the fps of the past 50 frames in order.
Dec 28, 2008
I've spent a lot of time on the software this weekend and added a lot of new features. here is a screenshot: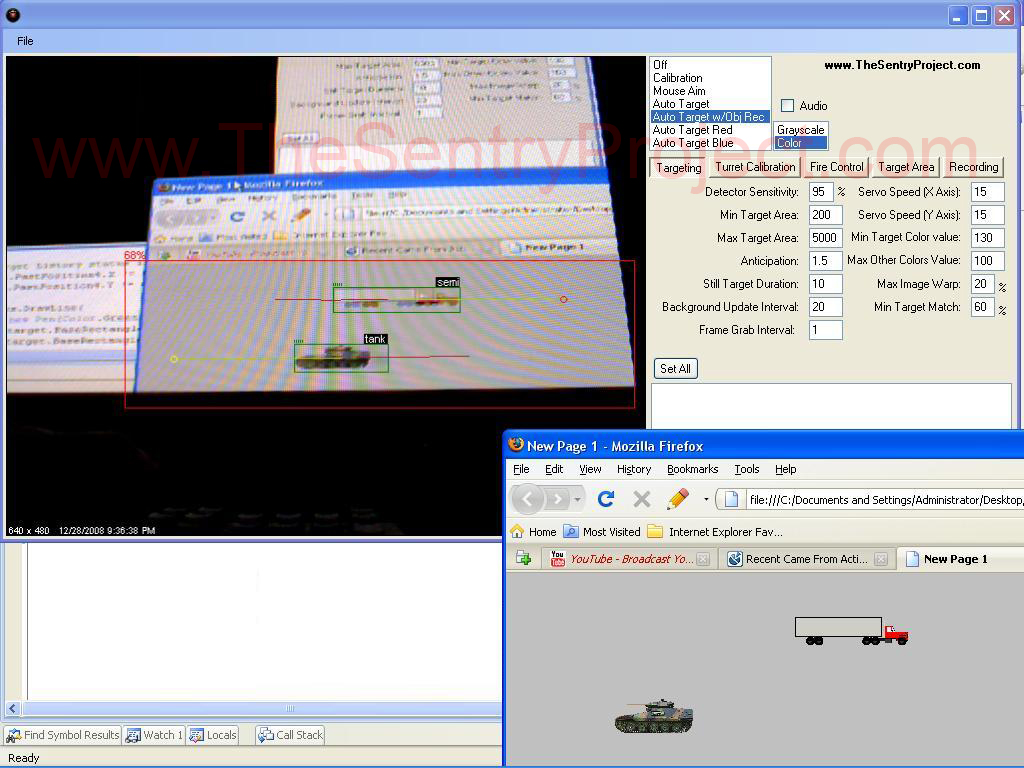 In a nutshell, the system can now anticipate the movement of all targets at once, will label and remember what they are when object recognition is on, and remember several other characteristics. (I've also added record features for security camera applications.) Now that the system anticipates all of the targets at once I could add an option to have the system rapidly cycle through each anticipated target, at a specified interval, and fire at each one immediately. It would not have to wait to gather target history data like it had to do before. This ability to collect and remember data for each target adds the possibility for several other target behavioral filters. For example, I could have it only fire at targets: moving a certain direction, moving away from, or to, a given location, or moving more than or less than a given speed just to name a few. Then, of course, there's different types of object filtering to add to that.
I've got a lot of work to do...
Dec 23, 2008
I got that image saving feature done where you just point to a target and click on it to save it's motion image. That makes building a target image collection much easier and more accurate. After you've saved a few target images you go to that folder to review them, remove the ones you don't like and whatever images are left in that folder the software will use to compare possible targets against. I'm trying to find a good example to illustrate that but all the public IP cams I know of either just have cars in them or just have people. I need something with 2 different objects commonly occurring at the same time to better illustrate it.
What would solve all these legal issues is a lawyer but all the ones I've ever seen specialize in personal injury. I need one who would be the preferred choice of defense contractors and is familiar with issues like mine. If anyone knows one of one who qualifies let me know.
Dec 22, 2008
I was informed that selling the software kit internationally violates International Traffic in Arms Regulations (ITAR) which could mean 10 yrs in prison. Also, contrary to what I thought, I can still easily be sued for something someone else does with this software even though I didn't make the hardware. So, if I'm going to sell to the public I'd have to purchase liability insurance first. As much as I need the money and would like to sell them, it would apparently be very foolish to do so without liability insurance.
Dec 22, 2008
I've improved Object Recognition. Now the system will test multiple reference images against all possible targets to look for a match. (The reference images are small monochrome bmp files of the target's silhouette that you can easily edit or create.) Once it finds a match, it is aware that there is a valid target there and does not try to retest it. This ensures that when a target becomes partially occluded, stops moving, or changes shape too much it will still be engaged.
I plan to add another feature that will enable the user to simply click on a target and have the program create the target bmp file for you. It can't get much easier than that.
I'll do some testing as soon as I get the chance and try to get a good example screenshot. I'll try to find a good IP camera that has 2 different objects in it (like cars and people) to test with.
Dec 19, 2008
I worked all day yesterday and today and I've finally got object recognition implemented. A simple version of it anyway.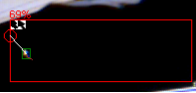 To keep it simple, I just had it try to recognize a mouse pointer. The red rectangle is the target area. The percentage in the top left corner is a measure of how well the target and reference image match. The left image below that is a representation of motion in the target rectangle. The image to the right of that is the reference image we?re comparing targets against. I still need to do some more testing and add more features to it.
Dec 16, 2008
ok, I fucked up the first auction by not allowing international bidders. eBay wouldn't let me change it without relisting. That's fixed and the link below has been updated. While the auction is going on I'm going to work on implementing object recognition.
Dec 16, 2008
Dec 15, 2008
I'm not going to wait for the LLC to be officially formed and they said the copyright will be official in no more than 10 days from the day they get it. I sent it next day so they'll get it tomorrow. I'll probably start the eBay auction when I get home from work tonight or tomorrow morning.
Dec 14, 2008
The new servo controllers work, the code is obfuscated, I've filed the LLC and for software copyright. I'm tempted to sell them right now but I should probably wait until the LLC is officially formed (35 days) and the software is officially copyright protected. I've got 3 servo software kits available to sell though when all that goes through.
Dec 12, 2008
The servo controllers have been shipped. One more step to go.
Dec 11, 2008
Here are some software screen shots: ( Earlier I put a video of the software on YouTube but it didn't come out well. )
The red circle represents the anticipated target, the green rectangles are possible targets, the gray rectangle is the adjustable target area, the blue rectangles in the top left represent the minimum and maximum allowable target size, bottom left is the resolution, and the bottom right is the frames per second meter. The system anticipates based on speed, direction, and movement consistency. It is also adjustable. In fact everything is adjustable. It is a very flexible system that has multiple uses. Anywhere from a surveillance system with a zoom camera mounted instead of a gun, to a heavy duty autonomous gun platform, and everything in between. It's all on how you build the hardware.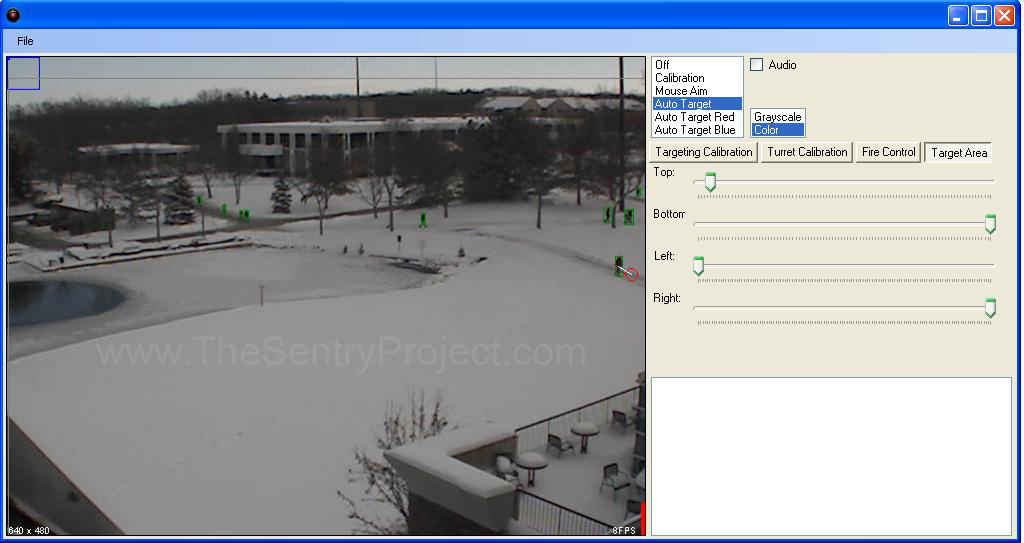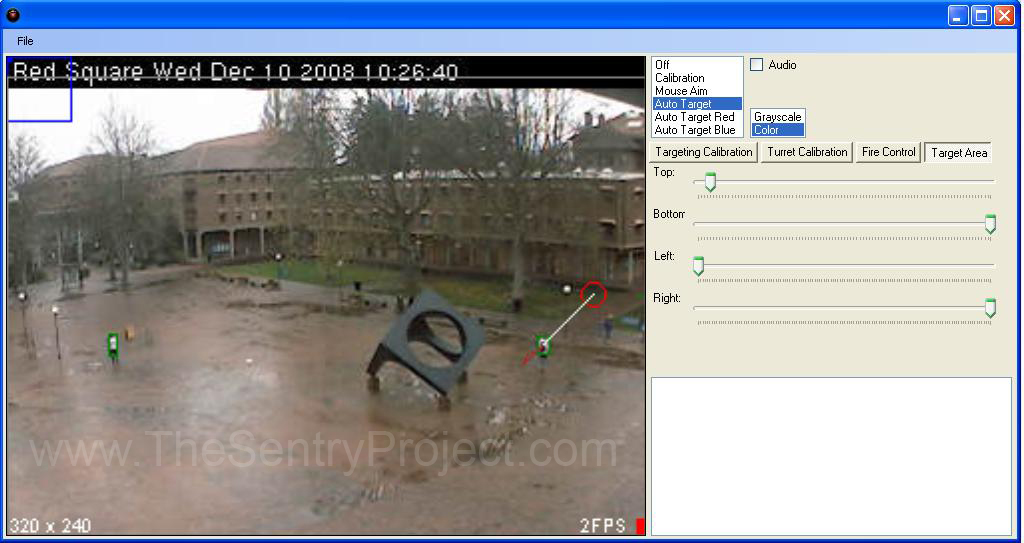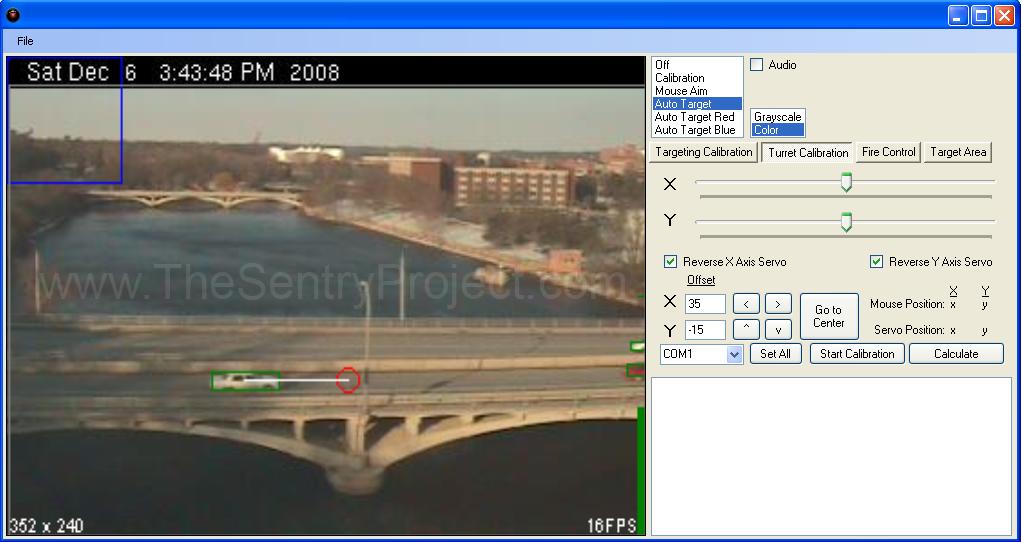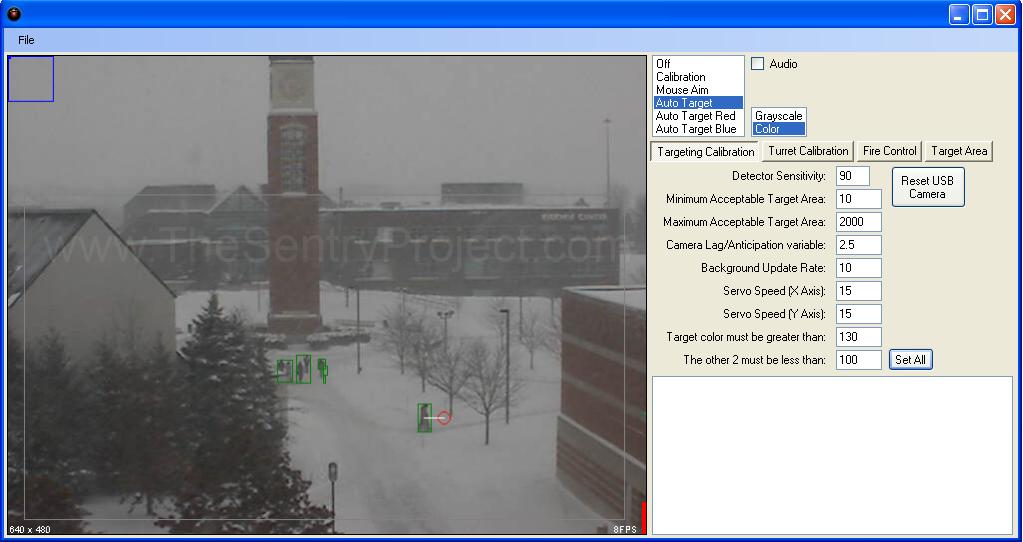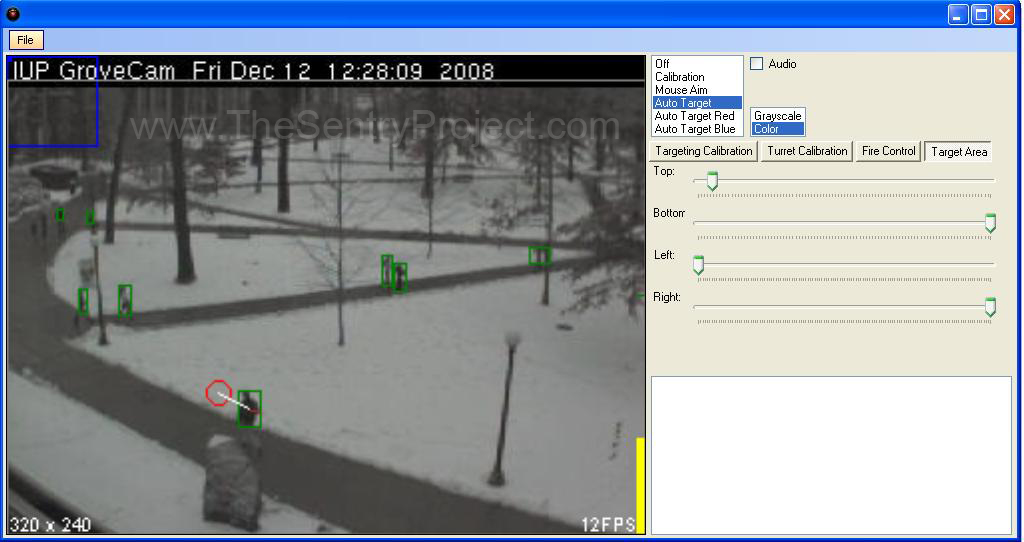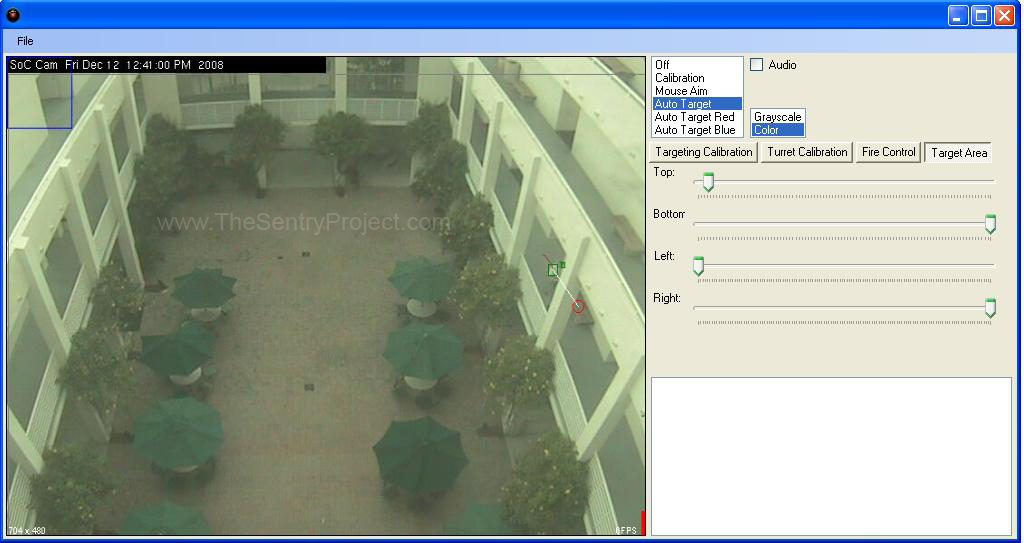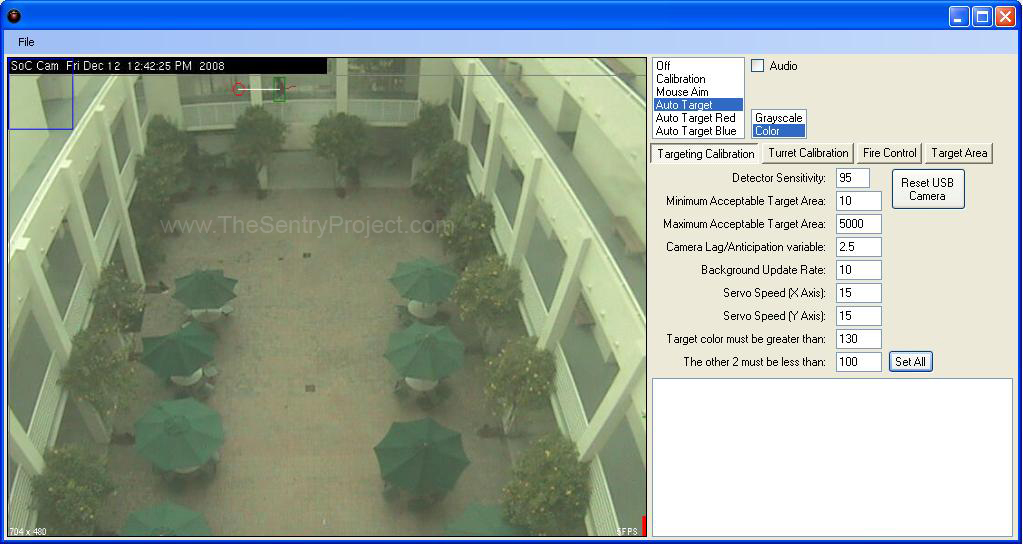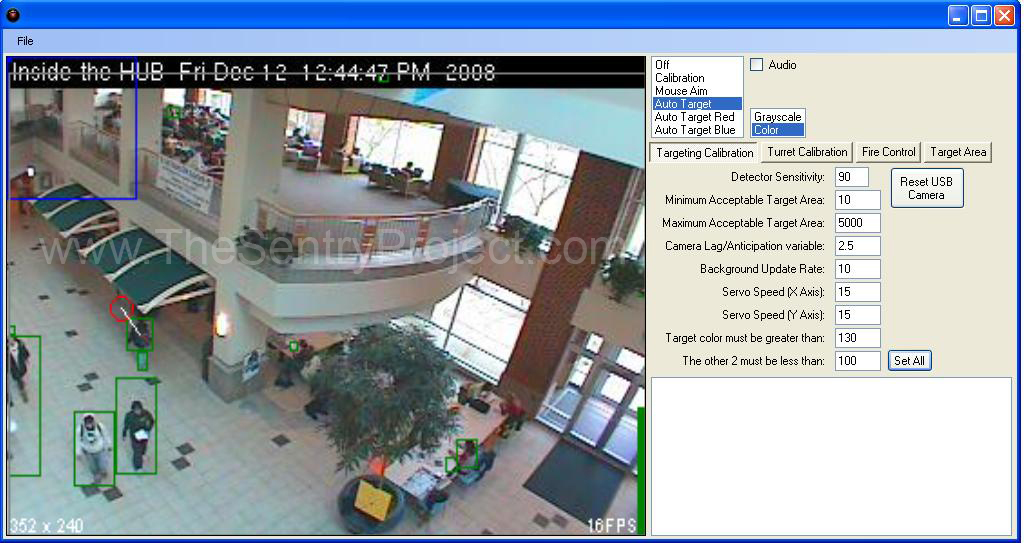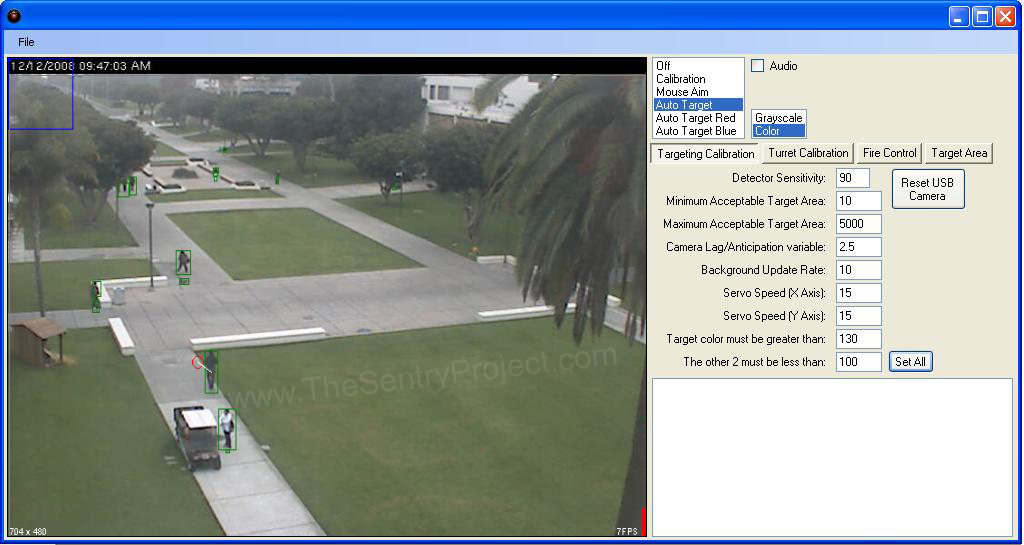 Dec 02, 2008
Thanks in a small part to donations, I just dropped $850 on getting those custom servo controllers made. They're supposed to be done in late December/Early January. By the time that's done, I should have decided on a good obfuscator, and the kits will finally be ready to sell. In the mean time, check out the new videos I put out in the videos section if you haven't already seen them. While I'm waiting, I'll make some finishing touches on the software.
Nov 22, 2008
I had a chance to do some more testing and I'm very happy with the new laptop (and the whole system in general). I can't believe I dealt with that A75 for so long.
As for getting that software kit ready to sell, I'm waiting on Pololu to get back to me on the finer details of the controller I'm having them build (they're on vacation at the moment). For some insane reason, they want $750 for the setup and customization of the controller. Then, to add insult to injury, they somehow need 4 weeks to do it. As far as I can tell, all they're doing is changing the code, then uploading the new code to the controller. what's that, maybe half a day's worth of work? but they need 4 weeks and a ton of money. Awesome. When that's done I've got to drop another $1300 I don't have on Dotfuscator Pro. The purpose of all this can be summed up as intellectual property protection.
I've revamped the calibration system (again). basically this new method paints a much more accurate servo-to-pixel map, runs faster once done, and is easier to adjust when swapping guns.
I'm halfway through making another video. The video is mainly of the system shooting down remote controlled heli's, rc boats, and any other fun scenarios I can think of ...
Nov 15, 2008
I took the System out for testing at a local park and found out just how much of a piece of shit my Toshiba A75 was. After that I bought an Acer Aspire One (windows version) for $350 and it's a hell of a lot better, cheaper, and smaller. It's great to know that a laptop that cheap will work, plus they can only get cheaper.
I've also made some major speed (faster frame rates) improvements on the software and the ability to switch between color and grayscale motion detection. it's turning into a pretty awesome system.
I've decided to focus on selling the Software + Servo Controller kit first, for a couple hundred or less. I can sell those while I perfect the hardware. That doesn't mean version 9 isn't working out. It is, but I want to test it some more.
I haven't done that much research into it, but if someone knows of a gumstix setup that has video input and a serial (rs232) port send me a link. I might be able to use them a cut the system cost down even more.
Nov 6, 2008
Got the remote control installed. it works great. the new laptop battery is in but I'm not sure if it works right because it'll just switch off sometimes (while still saying it has a good charge when you turn it back on). maybe it's a loose connection.
What's left to do before I can sell them? implement a few hardware improvements, get the custom servo controller made (to take care of the pirating issue), get a good obfuscator (so the source can't be read), form the LLC, and copyright the software.
The final product will require you to have a laptop, install the software and mount a gun of your choice. If you think, 'oh, that sucks, I don't have laptop.' guess what, if I sold it with a computer it would cost at least $500 more. so think about it, you'd be paying for a computer anyway, why not get a used laptop yourself? that way, you have the ability to remove it from the sentry when you're done playing with it and get more use out of it.
Nov 1, 2008
I've got that remote control and a new laptop battery coming in the mail. when they get here I can finally take it out to a local field for some better testing. My back yard is too small and if I put it in my front yard it will scare the neighbors... I'll probably have to cops called on me when I take it to one of the local parks/fields too. fuck it.
I've made a motion activated sprinkler for those people who want something cheap to keep pests off their lawn. The idea has already been patented and I saw one company that sells them but I'm going to make them anyway since they're so damn easy/cheap to make. I should be able to sell a few, here and there, to bring in some extra cash.
Oct 30, 2008
The best thing I found so far is this. The problem is, if it looses power, it will need to learn the transmitter code again. It works the same way as a garage door opener. What I need is something like it but it would need to be one channel instead of two, accept 7.4v input or lower (on the Rx board), and use dip switches instead of the modern 'learn' method. That way, it can be powered off of the battery pack and the whole system can be manually turned off and on without the need for re-learning (the dip switches determine the code). that product is perfect for a permanently mounted system though. If I can't find anything I'll just settle for that and it'll just be annoying pressing the learn button every time I take it out to use it.
Oct 27, 2008
I would really love to be done designing these things and start making a little money off of all the hard work I've put into this project. But at the same time, I can't sell something I know will have major (hardware) issues. With that in mind, I've made yet another prototype (check the 'Prototype History' page). It's mostly based off of version 5. While it looks very promising (to me), I'm also well aware that I initially thought the same thing of the previous versions. So we'll see how testing goes...
Oct 24, 2008
I've added legs to the case to reduce camera shake. (There's a bigger pic on the Prototype History page.) These legs can be removed without tools by removing 4 thumb screws. I'm using a Pololu servo controller now. with this controller I get higher servo resolution and most importantly, the ability to adjust the servo's speed. You always want the servos to move as fast as possible but if the Sentry's on soft/unstable ground you can slow down the speed a little to prevent it from shaking. So far, in testing, I haven't had to use it.
I'm gearing up towards making another video so if you have some specific scenes/scenarios/demonstrations you'd like to see shoot me an email.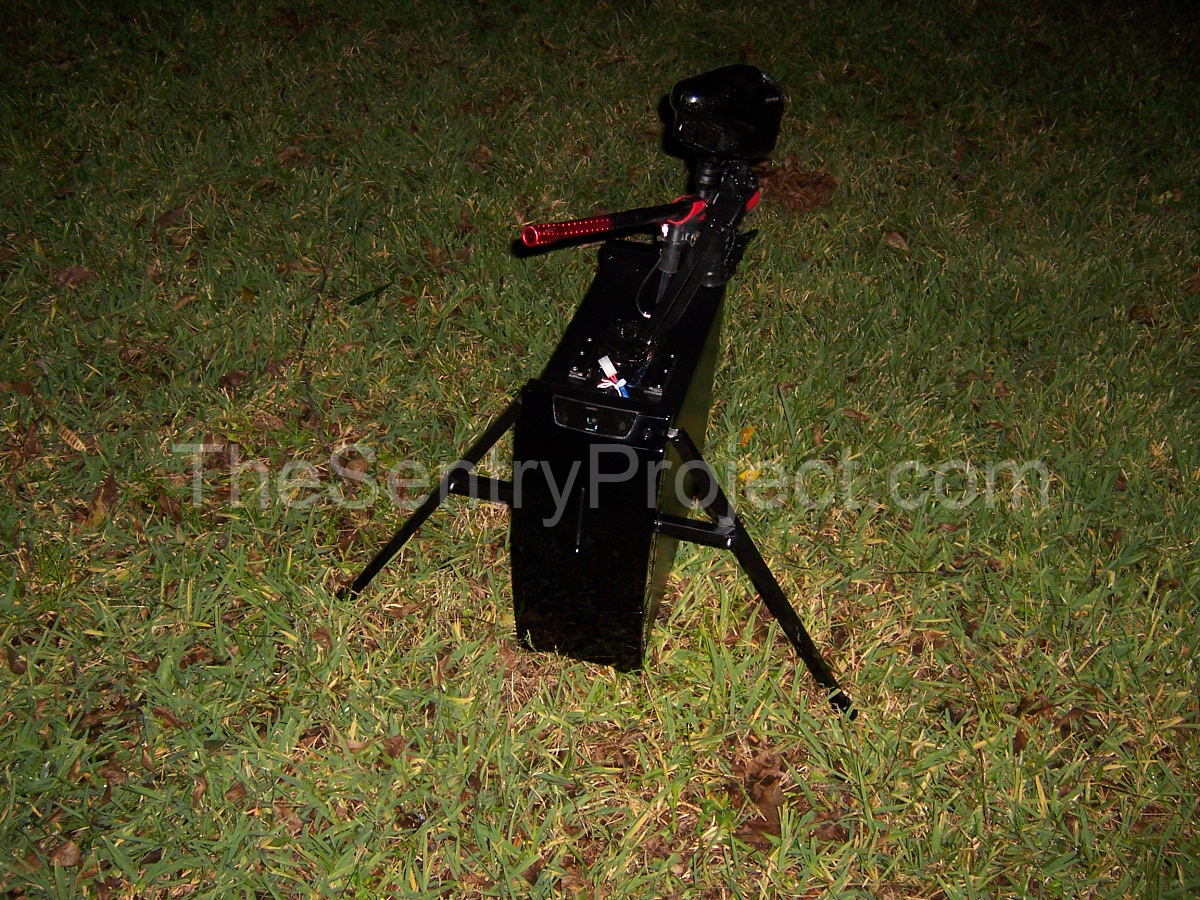 Oct 18, 2008
That was a hell of a lot harder than I thought it would be. I spent all my free time since the 10th working on the new formula. I ended up using Trig for most of it (that's after I spent the time learning (basic) Trig of course). It was worth it though because now the camera doesn't have to be centered nor do it's axes have to be parallel with the turret's axes. Here's a comparison of the old calibration process vs the new one:
Old Calibration:
mount the gun, turn on the laser, center the servos, and enable calibration mode

take apart the waterproof camera enclosure to get to the camera

adjust the camera until the laser is on the image center

try to guess if the camera's axis are straight with the camera and adjust if needed

aim to the left edge of the image, click a button, and do the same for the top, bottom and right edges

put the camera enclosure back together.

test for correctness using mouse aiming

realize that the camera's axes weren't quite lined up with the turret's axes and go back to step 2.
New Calibration:
mount the gun, turn on the laser, center the servos, and enable calibration mode

aim the turret at the image center and click anywhere on the image to store it's values.

aim the turret anywhere along it's X axis, far from center, and click the spot on the image where the laser is pointing

do the same for the Y axis and you're done.
now the gun and camera centers don't need to be lined up, and the tilt of the camera (if any) is not an issue either.
To clear up some common misconceptions, calibration only needs to be done when you're using the sentry for the very first time, if you re-install the software, or any time you mount a different gun to it. mounting the turret to the base should not require re-calibration.
The next issue to be resolved is camera shake. because the turret is so light, the momentum of the turret's rapid movements sometimes causes the case to shake (depending on how solid the ground is). I've already implemented a basic software fix that pretty much takes care of the issue but I want to make sure that there isn't more that could be done before I call it resolved. Then I can finally get some video of it shooting model airplanes out of the sky.. :)
Oct 10, 2008
The increased responsiveness and torque the 7.2v NiCD provides is amazing. the previous method of using the laptop's usb port for power was convenient, but clearly a bad idea. the new added portal voices are great and the overall hardware setup is much nicer looking and easier to use than ever before. while all that worked out well the gun to camera alignment (calibration) is too much of a pain in the ass and too time consuming to be acceptable. Sure, I could solve that by copping out and making it so it comes with a pre-calibrated, permanent, gun and camera, but then you would loose the ability to mount anything you wanted on it (and that's half the fun). I've got a software solution that should fix the problem and I'll be working on that tomorrow and this weekend.
Oct 5, 2008
Just got done building it (more pics on the history page). I only had the time to do a basic systems check. As soon as I get the chance, I'll take it out for calibration and testing. If it passes, this might be the one I finally sell to the public. it costs roughly $500 in material and parts so anybody trying to sell one of these for more than $1500 is ripping you off, big time. I've even seen RC paintball setups that cost much more than that (EMT Turret) and all they are is RC! it's pathetic! The Sentry is battery powered and the whole thing, including the camera is paintball/rain-proof. I keep a close eye what little competition there is out there and make sure I offer the same features, and then some, for half the price or less. I could have easily taken a shortcut and paid a machine shop to make them but, as I said before, the price would at least double.
I also wanted to say thanks again to those of you who have donated. donations paid for about half of this build. if the sentry tests well i'll start on a new video.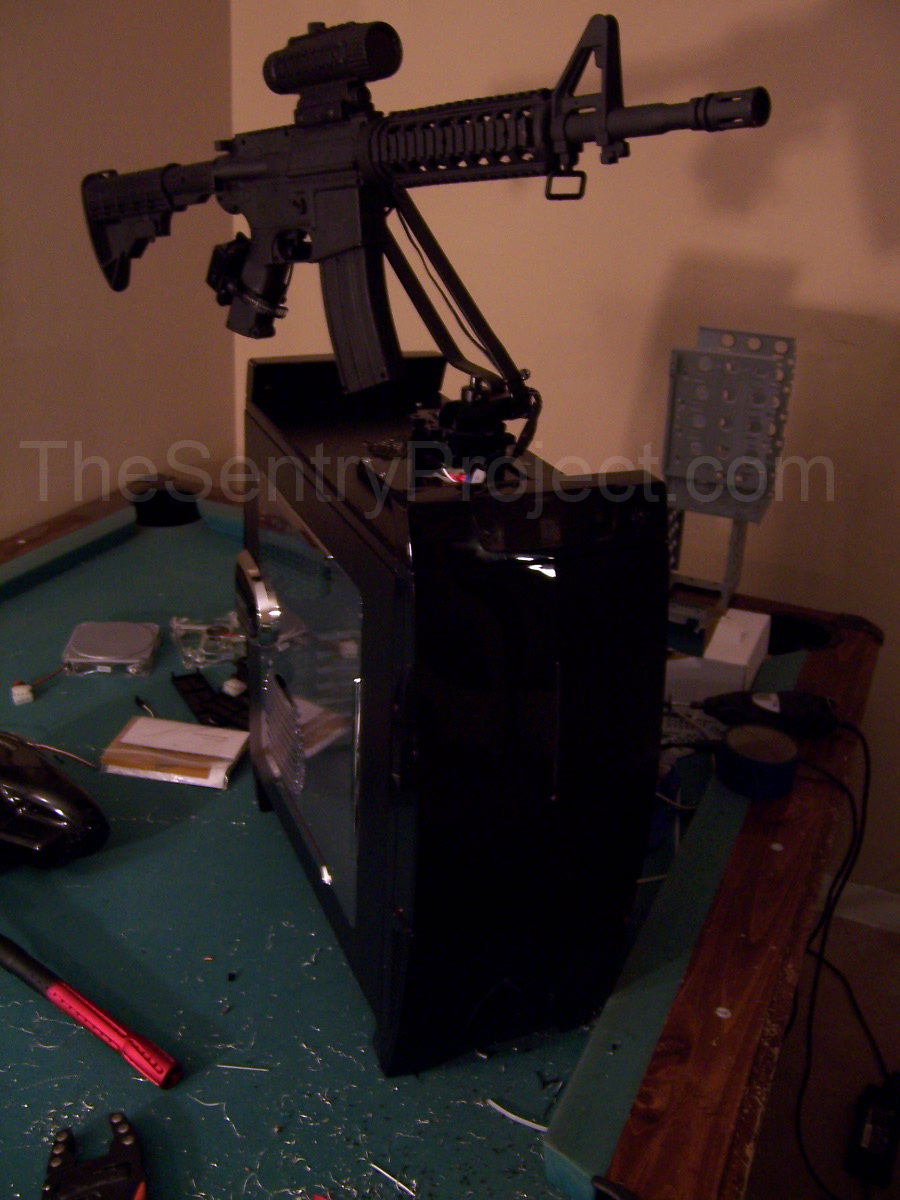 Oct 1, 2008
Finding a Hardware solution that's inexpensive, simple, easy to deploy, light, and is it's own case, has been tough. for example, in the most recent video, the case, by itself, weighed 60lbs, cost $300 to make, and took 2 days to fabricate. that obviously won't work. since then I've toyed around with all types of ideas trying to meet the criteria I just mentioned. after messing with different suitcases and briefcases I finally came up with the idea to use an ATX case to package everything in. the bigger ones seem to be the perfect dimensions to hold a laptop (ironic isn't it? a laptop in an ATX case) and the gun assembly. this is the case I've had my eye on ($99):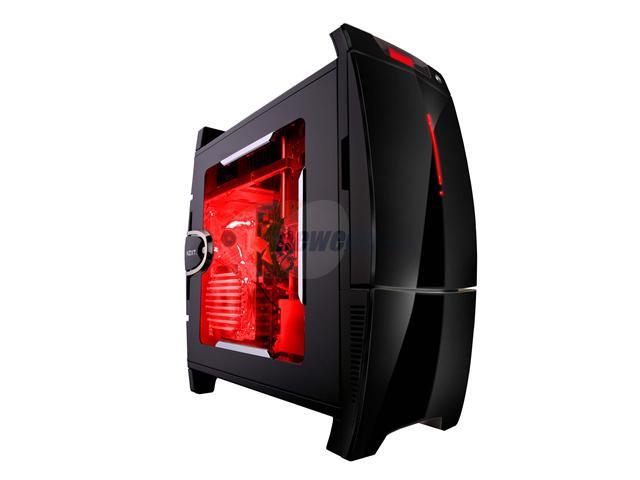 I would have to gut it and waterproof it from the inside (sounds hard but it is really easy and inexpensive). when the sentry is deployed, the gun + camera assembly will quick mount to the top and then be removed and put inside when packed up. This may seem odd, but to me, compared to all the other designs I have tried, this has some key advantages. when it's deployed it's footprint is slim (to fit in tight spaces [also a tripod adaptation can be made if needed]) and tall (to see above tall grass etc.). it also costs less and looks better than a hand made equivalent. also, other hardware like batteries, ammo and possibly an air tank could be put in there too. but hey, if you see something cheaper that looks as good and has similar dimensions email me, otherwise I'm going to get to work on it.
On another note, in the next video, I want to do a scene where it's Anti Aircraft ability is demonstrated (against RC aircraft of course :). I'll probably have it shoot down one of those Styrofoam gliders (paintballs will blow it to pieces) from 50+ ft up and maybe a small heli or two.
Sep 25, 2008
I've found more Portal Turret mp3s that I didn't have. I added those in and changed the code a little so you can also use you own audio files if you want.
Moving slowly won't save you anymore. The detector has been significantly modified so that it can track very slow targets and also ones that have recently stopped moving. this is particularly helpful in situations where a person is slowly peeking out from behind an obstacle. The changes have also significantly improved it's range. In optimal conditions, it can track a person walking at hundreds of feet out and well beyond the accurate range of a paintball gun.
Calibration is simpler to perform and adjust. Need to get a better laser though..
I've thought of a interesting design I'm going to start building soon. I need to draw it out in more detail first. Finding the best design has been difficult. I could easily just cop out and have a machine shop make it. But then I would have to charge customers out the ass to make up for the machine shop doing the same to me. So, the trick is to come up with a design that can be built for very low material costs, looks good, is durable, is it's own case, has room for a laptop, is light, can be set up quickly and simply, and is not too time consuming to make. The cheaper I can make them, the cheaper I can sell them for which would equal more units sold (which also means more personal injury lawsuits) Will eBay allow these on their site?
I'm going to change strategies on friend/Foe ID. Instead of saying 'this color is the enemy,' I think I'll make it do the opposite whereas, 'this color is friendly and everything else is a valid target.' (that way i get sued more) There are scenarios where this would be better and others where the opposite method would be better so I'll do both and make it a user option.
Sep 16, 2008
I've come across research papers describing Object Tracking Algorithms which perform far better than my own, in several areas, and with fewer limitations. Unfortunately, the authors of these papers love to explain their ideas and concepts in the most complicated way possible, while in most cases the ideas they are conveying can be greatly simplified without loosing the key concepts. when I do finally grasp what they are trying to convey, beyond all of their statistical formulas and jargon, I always get pissed at the amount of effort I had to put in to understanding what was essentially a much simpler concept than they made it out to be.
Sep 4, 2008
I thought of a way to dramatically increase the range while still using only one camera and also get a 90 field of view. the problem, as always, is i can't find a piece of hardware that meets my needs. i need a webcam that has around a 3x OPTICAL (not digital) zoom and does at least 640x480@30fps for around $100 or less. for some reason that's really hard to find. it might also be possible to make a zoom lens that will work on most cameras. i don't know, but if you do or know of a optical zoom webcam, email me. (i've already seen that one that has a 7x non adjustable zoom built in [that's too much zoom] and the VX-6000 which is advertized as having an optical zoom but doesn't)
Another solution would be a webcam that will allow higher resolutions than 640x480 when used in 3rd party programs. just because a camera (Microsoft VX-6000) can do 1.3MP video streaming using the program that came with it (LifeCam) doesn't mean it will let you have that high of a resolution using any other program. All the cameras I have tested either do 640x480 or 320x240 when used by 3rd party apps (Skype, AIM Yahoo IM, etc.)
Sep 1, 2008
friend/foe id is done. the build for version 8 is done (but i haven't put pics up yet). targeting has been greatly improved so that multiple targets are not a problem anymore. basically, if it were for sale right now, it's product features would be:
Universal gun mount and 'trigger finger.'

Simple calibration procedure for new guns.

Multiple firing modes: infinite ammo, full auto (all I ever use), semi auto w/ large round counter (that counts down and stops firing when 0 is reached), and an adjustable firing rate for semi auto mode

Multiple modes of targeting (modes can be used in any combination): center of all motion, biggest/fastest target only, and enemy color targeting.

A manual aiming feature that uses the mouse to aim and fire. (this feature is also good for verifying calibration is correct)

Highly customizable enemy color targeting system. (it's probably too complex for the average user so i'll be working to simplify it)

The ability to operate the sentry remotely from any computer with internet access.

All aluminum construction to reduce weight as much as possible.

Everything is powered off of the laptop for ease of use. (it doesn't make sense to charge for an onboard computer when you can save $700+ by just using your laptop and just removing it when you're done)

Inexpensive design keeping the cost low at below $750 (other automated sentries cost at least 3 times more for less features.)

Rain and paintball proof
Still to do:
Add an on/off remote.

make it so the user can use whatever mp3's he wants for the sound affects

setup a type S corp or an LLC (know where i can do it for less than $300? email me)

copyright the software (same here)

Patent anything that turns out to be patentable (know how i can do this cheaply [it's really expensive]?)

make a good demo video (take it out in the woods :)

sell them on eBay (probably not allowed. if you know for sure, let me know)
Aug 29, 2008
I'm putting the finishing touches on a color-based enemy ID system. I will have it done by this weekend. It will be extremely customizable (it already is). After that, it's back to completing a final hardware design (which I've already drawn up and bought the parts for). I don't imagine that taking more than a few days too. I also want to thank you for your donations. they help out in hardware/prototyping costs.
When the system is done, it will cost just above the break-even level for material and labor (which should be way under a grand). luckily i'll be paying local HS and college students to make them at as close as i can get to minimum wage. (they will, of course, be thoroughly quality checked and tested.) that's good for you because, A; if i personally made them it would waste all my time and I'd only be able to make so many, B; if i paid a machine shop, the cost of their much higher hourly rates and their ridiculous profit margin would be reflective in the final cost driving it up to some ridiculous, sky high price of around 3-4k.
back to work..
Aug 24, 2008
I gave it an inexpensive suspension system. now it can still weigh very little (25 lbs with gun) and also handle the momentum and kick of it's own movement without shaking the camera or moving the whole thing. I also learned all about the down side to aluminum. it's 3 times more flexible than steel.
My roommate has a brown nose pit and for some reason it just loves getting pummeled by the sentry. it will run into view and try to bite the little plastic BBs while squinting it's eyes and chasing it's tail as it gets a steady stream of BBs to the face and body. as soon as it hears the sound of the turret turning on it goes ape shit, runs right up to it, and starts yipping and running in circles like it can't wait to play. it's the strangest yet funniest thing I've seen in a while. I'd post a vid of it but some POS sissy would totally misunderstand and call peta on me even though the gun only shoots 150fps.
I want to get an invert mini (but they're expensive) to use in the next vid. me personally, I prefer to use electric, full auto, airsoft guns because they can hold a lot of ammo, the ammo is cheap, they don't make a mess, and are very low maintenance. the problem is, you won't see the little BBs in a video (i can't even see them fly when I'm standing right next to them) so, for that reason, paintball will mostly be used to demonstrate it.
I'm pushing real hard to keep the price really low. right now, the assembled hardware (minus a gun and computer) will be very close to $500 shipped. you can barely build one yourself for that much. and that's much much cheaper than the competition (what little there is).
Now that the shaking issue is solved, I'm going to waterproof it, implement the Arm/Disarm remote, and fr/foe id.
Aug 21, 2008
The thing was so light that the momentum of the gun rapidly changing direction caused the camera (and case) to shake. After a lot of thought, I've narrowed down the best solution. It will mean a total redesign but it will only take me a few days or less to build it. I've been getting some emails from people wondering why version X wasn't good enough to sell, I'll list the reasons, next to each version, on the history page.
Aug 16, 2008
More pics and description on the history page.
Aug 13, 2008
I make more and more progress on it every day. I will be done within a week. everything will be contained inside an 18x13x5 Executive attach?and weigh far less than the 67lb version in the video. it will be similar to The Ronnin from 007 but it will deploy on it's side.


Aug 8, 2008
Version 6 was a bust. the only real improvement it provided was the ability to easily and quickly mount any gun on it and it's universal 'trigger finger'. analog cameras were not the way to go, the frame was too heavy, the servos too weak, and the tripod legs met in one spot making wobble and shaking of the camera more likely.
Luckily, I have solved those issues and more. I have a totally different turret design that will improve accuracy and make calibration a one time thing. I've found servos with 10+ times the torque allowing realistic weight weapons to be mounted. I still can't get my webcam to up it's resolution to full capacity (I'll pay someone to solve this if they think they're up to it). range can be quadrupled with the use of a megapixel IP camera like the Arecont AV3100DN which can do 2048x1536 @ 15fps (but the damn thing costs $800). What that means is if a can't get a $90 webcam to go to it's max res, I might have to use a $800 IP camera instead. I've long since had a computer setup lined up. a simple arm/disarm keyfob is also going to be implemented and there are some good software improvements I though up that should improve targeting behavior. I could use a bunch of off the shelf stuff, but that would drive the costs way up to over 5k. that would be fine for the government I guess, but not really worth it for anyone else. therefore, I'm trying to keep it as cheap as possible.
I'm extremely frustrated with the lack of progress lately. My job just barely pays the bills and consumes most of my time (just like hourly jobs are designed to do) so when I figure out how to pay for version 7, it'll be built.


Aug 4, 2008
Ok. I use a 'LifeCam' VX6000 that has a 71 degree field of view and can do 1.3MP video. I'm looking for a USB or firewire camera that is better than that in either of those 2 categories (without sacrificing one for the other) . (analog cameras don't count either.) I need the highest possible resolution, for range, and the widest possible field of view.
I also can't get the camera to go to 1.3MP except by using the viewer software that came with it. in my program the camera just defaults to 640x480. I'm still looking for help in getting my software to tell the camera's drivers to up the resolution.
I've shied away from using analog cameras because they generally have poor resolution and all the analog to digital USB converters i've used either didn't work at all or worked, but were laggy and dropped frames randomly. they also won't have a high resolution either. I do miss the wide angle view and the IR lighting analog cameras provide though.
On the subject of depth perception; I don't see the need for going through all the trouble of getting 2 camera feeds to work at the same time (for use as a right and left eye) because the odds of the frame rate still being above a usable 15 fps are slim to none. I've already considered many other ways to incorporate multiple cameras. the result is always either poor resolution or poor frame rate. depth perception is really only relevant in bullet lag anyway. a real gun hardly has any at 100 ft and a paintball gun does, but it's accuracy also starts getting much worse at that range anyway. even still, I can create artificial depth perception by comparing what a human's size would be at different distances to the target's size (if it turns out to be necessary). don't even start about laser range finders. there are several reasons not to use those. i would need one that interfaces with a computer and comes with drivers (which probably doesn't even exist). the percentage of time that laser would a; be on the actual target, b; be still, and c; have enough time to get a reading, are next to nothing.
know where I can find a LIDAR system like the ones used on autonomous vehicles in the DARPA challenge? a LIDAR could possibly be better sensor than a camera but I can't find them for sale anywhere.


Jul 29, 2008
I have some new software abilities I want to implement but they're proving to be a little over my head. if you're and experienced in C# and would like to help click 'Contact Me' up at the top and shoot me an email.


Jul 13, 2008
This one can see in the dark :) For more details, visit the Project History page.