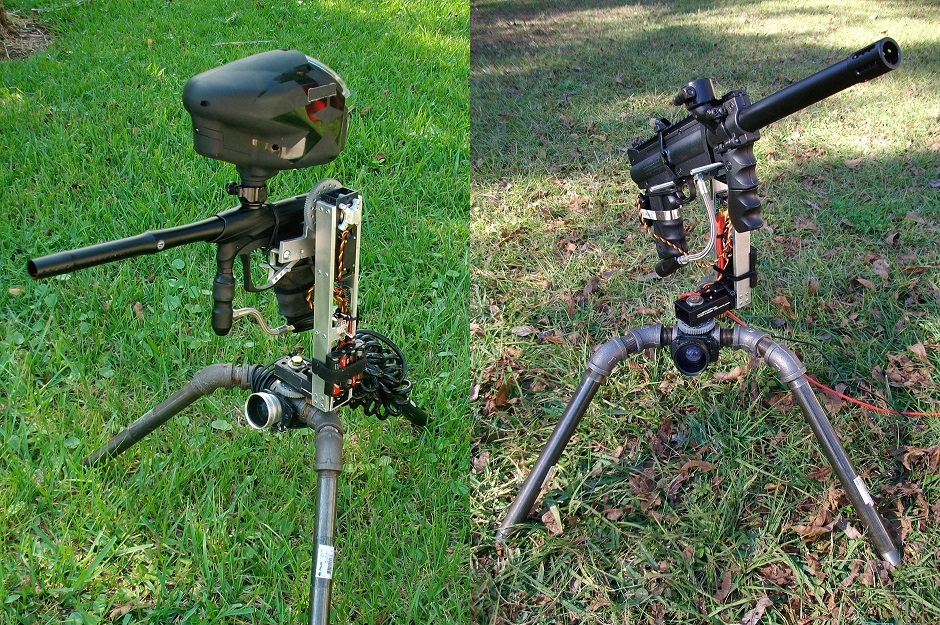 What is the 'Heavy Turret'?
A turret is a rotating weapon platform. It is a pan/tilt assembly that holds a non-lethal airsoft or paintball gun. We offer these kits because currently there are no other options out there besides trying to build it yourself. These systems are the result of everything that was learned over 11 generations of design spanning six years of development. All the structural components are metal and the gun mount is universal. The design has been optimized to be low cost and highly functional.
What can I use it for?
Scenario paintball/airsoft games (capture the flag, base defense, etc.)
Military/Law enforcement training (increased realism)
Any other non-lethal area defense
What is included?
Everything except the laptop, batteries and gun. Some assembly required as shown in the video below.
3rd Party Review
The following link is an audio interview in which one of our customers (Drew Curtis from Fark.com) guest appeared on a BoingBoing Gadgets podcast 11 to speak about his experience with the heavy turret. boin_boing_gadgets_podcast_11_excerpt.mp3 (full podcast with article (specifically from 9:40-16:25))
Domestic, insured shipping to the continental US is $63.
International shipping is sent via FedEx International Priority and is either $220 or $270 depending on the destination country.
Unboxing/Setup Instructions: